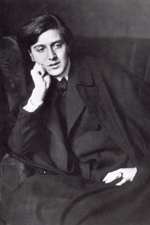 Alban Berg, celebrated within the Festival 'Wiener Festwochen'
Monday, 21 June 2010 , ora 10.09

This year we are celebrating 125 years since the birth and commemorating 75 years since the passing away of composer, Alban Berg, representative of the new school of composition founded by Arnold Schönberg in Vienna, at the beginning of the last century. The musician was dedicated a series of concerts within the festival Wiener Festwochen, which takes place in Austria's capital city between May 14th and June 20th 2010. The concert on June 16th may have been the most spectacular one thanks to the fame of the performers: Pierre Boulez conducted 'Intercontemporain' new music ensemble of Paris, soloists were pianist Mitsuko Uchida and violinist, Christian Tetzlaff.
I listened to the Chamber Concerto for violin and piano by Alban Berg, written between 1923 and 1925, preceded by major works of composers Franco Donatoni, Karlheinz Stockhausen and György Ligeti, who later on developed the technique and the aesthetics of serialism.
For me, the works by Stockhausen and Ligeti brought a deserved expressive counterbalance to the fragmented and cerebral music of Berg's Concerto. I enjoyed the opus Kontrapunkte by Stockhausen and the Chamber concerto for 13 instruments by György Ligeti in a performance worthy of the comparison with Japanese unique plastic art items, meticulously and precisely shaped, to which I would like to add an overall observation, that Alban Berg's celebration also brought on stage works written later on, the audience being somehow trained to find personal answers to questions launched by Berg's music at the beginning of the last century.
Haiganuș Preda-Schimek
Translated by Mirona Palas, Andreea Velicu
MA students, MTTLC, Bucharest University