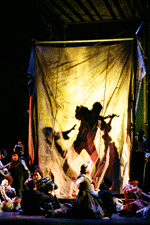 Faust at the San Francisco Opera
Wednesday, 23 June 2010 , ora 11.28

The San Francisco Opera has a sense of humour. They'll invite us to ride with a Valkyrie one day, then next to sell our soul to the devil; but the most beguiling temptation is the performance of Gounod's Faust, from the 16th of June 2010, in a production from Chicago, conducted by Maurizio Benini.
A sensation of enchantment took hold of the audience from the very first measures, and the Italian conductor proved capable of maintaining it until the end. The scenery was a perfect fit, magnificent and ingenious, in consonance with the American penchant for sumptuousness. The garden of the young woman seduced by Faust, Marguerite, is an earthly Eden, and the prison where she ends up, a staircase rising towards heaven.
Young Jose Maria Condemi's stage direction is simple and efficient. He highlights the charms of the characters and not their fall. Canadian John Relyea is not so much a shrewd devil as an impressive one. He easily commanded both stage and audience with his aria Le Veau d'Or. In the aria Salut, demeure chaste et pure, Stefanno Secco creates an impatient, mild Faust, not as seductive. Patricia Racette's Marguerite is irresistible in the Jewel Song, and touching in the madness scene. She evolves from aria to aria without losing her innocence.
The success of this production would not have been complete without the slow - and controversial - tempos chosen by the conductor, which intensified the psychological drama. Also indispensable were the luminous portrayals of Valentin by Brian Mulligan - whose French is remarkable - and Siebel by Daniela Mack.
Such a tightly-knit cast is rarely encountered, and its performance stays in the soul of the listener.
Alexandra Diaconu
Translated by Cristina Petrescu, Andreea Velicu
MA students, MTTLC, Bucharest University