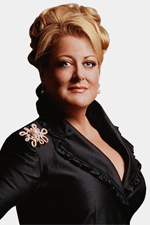 La Fanciulla del West at the San Francisco Opera
Friday, 25 June 2010 , ora 9.41

This year we celebrate a century since Puccini's Fanciulla del West (The Girl of the Golden West) was written. The love story between Minnie, the owner of a salon, and the blaster Dick Johnson, takes place in California. Greedy of proposing to the audience a libretto with far-famed references, the San Francisco Opera is celebrating this musical piece till July 2010.
La Fanciulla is a complex score, both for the performers and the public. The infinite tunes and their amazing harmonics call for an inspired and accurate interpretation. The opera's permanent musical conductor, Nicola Luisotti, introduced the lyricism and the dramatic tenseness within the orchestra, but she did not succeed in inspiring all the interpreters. Only during her stage performance, the mezzo-soprano Deborah Voigt could transform Minnie in a credible character, a woman with such strength and tenderness. But Roberto Frontali, playing the lover sheriff, proved to have amazing vocal qualities appropriate for the role.
The tragical feeling is an essential ingredient for Puccini, and this is exactly what mostly lacked. Tenor Salvatore Licitra created a dynamic and quick-tempered Dick Johnson, but too innocent. Instead, the audience was seduced by the luxurious scenery, the coloured costumes and the entrance of the performers on a real horse, during act 3. La Fanciulla is neither La Bohème, nor Tosca, and only an outstanding production may highlight its potential.
Alexandra Diaconu
Translated by Neculai Cristina and Andreea Velicu
MA Students, MTTLC, Bucharest University