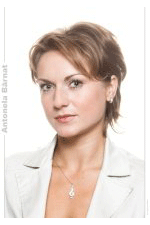 Romanian Music Recital at the Cantacuzino Palace
Thursday, 1 July 2010 , ora 12.57

The programme of the recital scheduled for Wednesday, June 30
th
2010, organized by the 'George Enescu' National Museum and Radio Romania Music once again brought to the foreground the Romanian lied in the interpretation of mezzo-soprano
Antonela Bârnat
- soloist of the Bucharest National Opera - and pianist
Iulia Săndulescu
.
In the intimate atmosphere of the Music Salon of the Cantacuzino Palace I felt not only the wonderful communion between music and text, but also that between the two soloists and their audience. In the lied Negrule, cireșule, composed by Tudor Dumitrescu on lines by Lucian Blaga, Antonelei Bârnat's powerful voice proved from the very first notes a blend of drama, warmth and sensibility - virtues exhibited throughout the entire recital.
Next followed the cycle Odinioară (on lines by George Bacovia) where Felicia Donceanu beautifully interwove the symbolism of the text with equally suggestive Expressionistic musical force. The two soloists' performance underwent a chameleonic change for each of the seven vocal miniatures, succeeding in rendering a powerful illustration of melancholy, solitude, optimism or rain - one of Bacovia's obsessions. Doină (on lines by Mihai Eminescu) by Alexandra Cherciu and Bâlci în Aldebaran by Felicia Donceanu (on lines by Tudor Arghezi) completed the second lieder cycle of the programme: Sept Chansons de Clément Marot by George Enescu. Antonela Bârnat and Iulia Săndulescu managed to portray the 'two divergent lines of expression', as Pascal Bentoiu describes them: 'one of joviality and the other ranging from nostalgia to profound melancholy'.
Although they hadn't collaborated in this formula before, the two soloists approached this challenging programme as a homogenous duo (not as a voice accompanied by a pianist, but voice and piano joined together) from both a technical and expressive perspective.
Andreea Chiselev
Translated by Alina-Olimpia Miron
MTTLC, Bucharest University