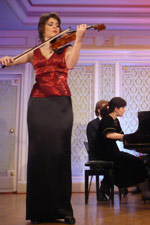 Tuesday Evening Session
Tuesday, 9 February 2010 , ora 10.43

February 9th, 2010 – a beautiful winter evening....Together with a pleasantly surprising large audience, we had the opportunity to attend, as a part of the Tuesday Evening Session in the Small Concert Hall of the Romanian Athenaeum, a recital held by Ioana Cristina Goicea – violin and Ioana Mândrescu – piano.

Violinist Ioana Cristina Goicea was born in a family of musicians in 1992, being the daughter of well-known violinist Cristina Anghelescu. She is in the 11th grade at Dinu Lipatti Music High School in Bucharest, in the class lead by teacher Radu Popescu. She has also been taught by Professor Ștefan Gheorghiu, a disciple of David Oistrah, since 2007.

Since 2000, she has been a National Music Olympics laureate and won the first prize in competitions like George Georgescu (Tulcea), Garabet Avachian(Bucharest), Paul Constantinescu (Ploiești), and the Prize of the Romanian Union of Composers and Musicologists (2005). She was awarded the second prize at Orange Romania Contest (2008), the third prize at the Andrea Postacchini International Violin Competition in Fermo, Italy (2006), the first prize at the Jaroslav Kocian Violin Competition in Usti nad Orlici, Czech Republic (2008), the first prize and Bach Special Prize at the Kloster Schöntal International Violin Competition in Germany (2009).

She held concerts both in our country, with the philharmonic orchestras Moldova from Iași, Mihail Jora from Bacău, Oltenia from Craiova, and abroad, in Italy and China. She also performed during the George Enescu Festival 2007 edition, as a soloist, alongside Dinu Lipatti Music High School Orchestra. During 2009, she attended virtuosity classes courses held by Professor Petre Munteanu in Germany. Violinist Ioana Cristina Goicea has a wide repertoire, comprising important works in several music styles.

Born in 1981, Ioana Mândrescu attended Dinu Lipatti Music High School, in the class led by teacher Ligia Pop, and the National Music University, under the guidance of pianist Sandu Sandrin. Afterwards she had studied at Ecole Normale de Musique de Paris Alfred Cortot, in Françoise Thinat's piano class, and graduated with the Diplôme Supérieur d'Exécution. She is now attending a master program at the National Music University in Bucharest.

Pianist Ioana Mândrescu took several development classes with Konstantin Scherbakov, Kevin Kenner, Shoshana Rudiakov, Massimo Somenzi, Sodi Braide, John O'Connor, Klaus Hellwig and Michael Roll.

She held recitals in Romania (Bucharest, Tulcea) and abroad, in Albania (Tirana and Fier), France (Orléans, Paris), Italy (Brescia, Venice, Rome), Germany (Trossingen Conservatory).

Ioana Mândrescu competed in international festivals like Klasik (Albania) or Mozart (Bucharest) and performed as a soloist with Dinu Lipatti Music High School Orchestra, the National Music University Orchestra and Ploiești Philharmonic Orchestra.

In 2004, pianist Ioana Mândrescu performed, for the first time in Romania, the Concerto no.1 by John Field. In 2008 and 2009, she competed, as an accompanist piano player, in George Enescu and Jeunesses musicales contests. She was awarded at the National Music Olympiad and other competitions: Lory Wallfisch (Ploiești), Jeunesses musicales and Mihail Jora (Bucharest) , and Konzerteum(Greece).

The recital held at the Romanian Athenaeum on February 9th comprised of Johannes Brahms Sonata No. 2 in A Major, Op.100, Introduction and Rondo Capriccioso, by Camille Saint-Saëns and, after a short interlude, Study in the Form of a Waltz by Camille Saint-Saëns/Eugène Ysaÿe and Tzigane by Maurice Ravel.

Despite the demanding repertoire, violinist Ioana Cristina Goicea proved a self-control that could only be a proof of a solid technique, an exceptional musicality and a strong desire to share her true artistic emotions with the audience.

Pianist Ioana Mândrescu delivered a very sensible and subtle accompaniment for the solo parts, demonstrating a very intelligent cohesion of the artistic act. The public rewarded the recital of the young artists with long rounds of applause, so they returned on stage for an encore, to perform Pyotr Ilyich Tchaikovsky's Melody. It felt like an "oasis of tranquillity" after the enthusiasm of the intricate repertoire. It was another excellent recital within the Tuesday Evening Session series of events, reaffirming that the need to follow the performances of our very talented young musicians which, as we can see, prove to be very enjoyable presences on stage.
Adriana Nițu
Translated by Bogdan Prundeanu, Andreea Velicu
MA Students, MTTLC, Bucharest University