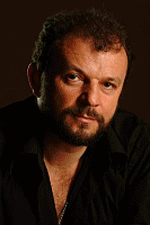 Extraordinary ending of the season at Bucharest's National Opera House
Wednesday, 30 June 2010 , ora 13.02

...Through the two performances of
Turandot
- on June 26
th
and 27
th
2010. To be able to provide the audience with Giacomo Puccini's final masterpiece in the best possible conditions is a feast few opera theatres in the world can be proud of. The difficulties start with finding the main performers - a soprano and a tenor with dramatic, flexible and durable voices, as precious as rare.
Silvia Sorina Munteanu (photo) was a perfect match for it, being a very authentic Turandot at the premiere - with force and brilliance in acutes, but also displaying amazing, laser sharp pianissimos; showing a cautious, controlled and intelligent evolution. A great performance was also given by the Bulgarian soprano Mariana Zvetkova - interpreting the lead role in the second cast - although she could improve certain harsh notes, a large vibrato and the Slavic utterance.
As for the role of Calaf, it was played in the first night by the Turkish tenor Efe Kislali with his solid, monolithic baritone voice; the performer for the second night, the Romanian tenor from Cluj, Kiss B. Attila (photo) out-sang him in voice, stage performance and expressiveness. The same happened with bass Horia Sandu, more impressive as Timur than his colleague Marius Boloș that performed the role at the premiere.
The performers of Liu: Crina Zancu in the first cast andIrina Iordăchescu in the second - were very different but both excellent. The trio of the ministers Ping - Pang - Pong made of: Florin Simionca, Cristian Mogoșan and Valentin Racoveanu on both nights, was also very well chosen.
Also suitable to their characters were Ion Dimieru - the mandarin and Florin Diaconescu as the Emperor Altoum; another memorable "character creation" of this scene passionate veteran.
The greatest satisfaction of all, of an intensity rarely seen live, was created by the general elements. Numerous, profound and spectacular, they were created by the choir of maestro Stelian Olariu who performed at the excellent level we were accustomed, that was honoured - surprisingly!- by the orchestra, almost impeccable, especially at the premiere, despite the massive and complex writing, full of brass elements and percussion instruments. In this context it is safe to say that the shining star of the night was...the baton of conductor Tiberiu Soare that coordinated it all with professionalism and a great talent.
As for the mise-en-scene, director Ștefan Neagrău and stage designer Viorica Petrovici had chosen a minimalist hybrid formula, that of a concerto-show, wonderfully created, that stands apart through simplicity, clarity and expressiveness, thus being an important part of this production's great success, that really does honour to our lyrical stage.
Ligia Ardelean
Translated by Monica Cristina Țone and Andreea Velicu
MA students, MTTLC, Bucharest University