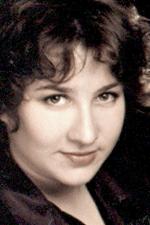 Closing of the season at the George Enescu Philharmonic
Monday, 5 July 2010 , ora 11.23

The last concerto of the season of the George Enescu Philharmonic took place on Friday, July 2nd 2010, under the baton of conductor Misha Katz and soloist Sofya Gulyak. Known at international level as being the first woman who won the International Competition in Leeds, in 2009, the young soloist interpreted at Bucharest the Concerto no.1 for piano and orchestra by Piotr Ilici Tchaikovsky. The Russian origin of the conductor and the soloist had its say, the lyrical pathos of the concerto was not an exacerbated one, but a delicate, calm one, internalized here and there.
The stage attitude of the composer could be described, as we already have, as extrovert. Misha Katz combines the rich gestures with the intense living of music, for whose expression the orchestra seems not to be enough. The ensemble answers through diverse dynamic nuances, but also the rhythmic and expressive synchronization with the soloist. Sofya Gulyak combines successfully reason and feelings, lyric and dramatic, tension and relaxation, keeping a glamour note and luminosity for the final part of the concerto.
The profoundness of the music thinking of Misha Katz also took hold of us in the second part of the evening, when playing Symphony I Titan by Gustav Mahler. Each of the four parts had a dominant note: the attentive construction of phrases, the timbre contrasts and instrumental dialogues in the first part, the energy and its cumulation in the second part, the internalization and dramatic nature in the third part and the outbreak of the entire tension in the final, full of instrumental virtuosity.
I kept the praises to the orchestra for conclusion, it was remarkable from the technical point of view, but also expressive, because it faced a conductor whose dance movements are not always easy to be understood. I do not know if the public appreciated more the concerto or the stage performance of Misha Katz, it is certain that the end of the season of the George Enescu Philharmonic was a successful one.
Andreea Chiselev
Translated by Zenovia Popa and Andreea Velicu
MA students, MTTLC, Bucharest University