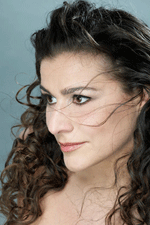 Sublime Donna
Tuesday, 6 July 2010 , ora 14.12

Cecilia Bartoli explored the bel canto repertoire during the making of the CD and DVD Maria that were released in 2007 as a tribute to Maria Malibran. Then she went further into Bellini's work by performing once more two of his main characters: La Sonnambula, in a studio recording in 2008, and Norma in two concerts held in Dortmund on the 29th of June and on the 1st of July 2010. In the latter I was part of the audience.
In a very particular and convincing way - under the circumstances given by the Konzerthaus in Dortmund -, Cecilia Bartoli was a chamber-like retro Norma, surrounded by the baroque sounds provided by the exceptional German band Balthasar Neumann, conducted brilliantly by its founder, Thomas Hengelbrock. The orchestral arrangement was based on vintage musical instruments.
I should also mention the impeccable performance of the Balthasar Neumann choir and the soloists who were part of the cast: high-class professionals like Michele Pertusi, a renowned Italian bass, who was chosen for the part of Oroveso; John Osborn, a rising American tenor, who was a Pollione di grazia with a pleasant tonality, and Rebeca Olvera, a young Mexican singer who performed the part of Adalgisa - a part that is usually given to mezzo-sopranos - with the ethereal voice of a lyrical soprano.
With such partners and taking advantage of the very good acoustics of the hall, Cecilia Bartoli was able to manifest her virtuosity, which makes her unique in today's artistic world, without any restrains. Her rich voice, ideal for Bellini's phrases, seemed tireless; the legato singing was so homogenous, increasing the charm of the cantilena; her already legendary virtuosity was highlighted in passages of a different grace-notes, that were more extended than in traditional performances. They were adapted to her vocal quality, that of mezzo-soprano, although by means of her voice range and her special technique she can take on roles of soprano, such as Norma.
Callas' profoundly dramatic vision of the role, which might have seemed infallible to us before, has found a surprising alternative - extremely refined, with delicate touches, as even the forte sounds had a sotto voce sonority. Cecilia Bartoli managed to render a complex character of great inner beauty in a range of colours of endless expression. The name sublime donna by which Pollione addresses Norma during the duet that precedes the finale of the opera seemed to me therefore the ideal corollary.
Ligia Ardelean
Translated by Cristina Caramida and Andreea Velicu
MA Students, MTTLC, Bucharest University