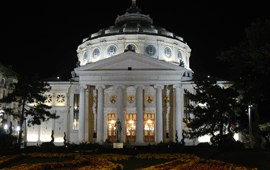 A first "Musical Soiree in Bucharest", with Mihaela Martin and Thomas Hoppe
Wednesday, 21 July 2010 , ora 15.06

During the midsummer, when the musical world goes on holiday, the number of concertos decreases, leaving the music lovers waiting for a new musical season. For the least patient ones, the inauguration of the Musical Soirees in Bucharest- organized by the "Lanto Arte" Association at the Romanian Athenaeum, on Wednesday, the 14th of July 2010 - was a festal occasion thanks to violinist Mihaela Martin and German piano-player Thomas Hoppe. Chosen from the classical-romantic repertoire, the evening's program - characterized by some sort of introvert sensation – surprised the audience mostly by means of interpretation while the two instrumentalists highlighted through their music feelings such as confidence and joy.
From Beethoven's Sonata no. 8 op. 30 and Franck's Sonata in A major, to Brahms' Scherzo and Tschaikovsky's Scherzo-Waltz op. 23, from a brilliant virtuosity to a deep melancholy, the music was continually outlined by Contrast in timbre, dynamism and tempo.
Mihaela Martin – Thomas Hoppe's duet stroke through synchronization, tone accuracy, but also through the elusory easiness with which it managed to change from the exaltation present within Beethoven's music, to Brahms' specific nostalgia, to the aerial lyricism, the amazing harmonics from Franck's score and Tschaikovsy's mystery-filled music.
I should also mention the great feeling that Manuel de Falla's Popular Spanish Suite gave me, a musical piece seldom performed within the Romanian musical life. I do not know for sure who was the "magician" who created – by means of such a rich palette of harmonics, tones and colors - this fascinating musical world: violinist Mihaela Martin, pianist Thomas Hoppe or composer Manuel de Falla? Whatever the answer is, the Bucharest Musical Soirees Season is expected to be captivating.
Interviu realizat de Alexandra Cebuc
Translated by Neculai Cristina and Andra Stroe
MA Students, MTTLC, Bucharest University