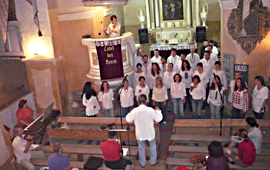 Sound Choir at Dealul Frumos – Three days of celebration...
Monday, 26 July 2010 , ora 10.14

The experimental workshop, "Asamblaje II - Praguri" ("Assemblies II - Thresholds"), held between the 16th and the 18th of July 2010 at Dealul Frumos, Sibiu County, was hosted by the city's Study Centre for Vernacular Architecture, under the aegis of "Arhitextdesign" Foundation, managed by Arpad Zachi.
The event was intended to promote identity between artists in fields like: architecture, music and film by means of direct dialogue as well as participation in a common project, in other words, a passing through different thresholds.
Thus, the pieces were "assembled": space (architecture) - "5 O'Clock Arhitext" - a symposium attended by Bogdan Ghiu, Vlad Gaivoronski, Mihai Pienescu, Adrian Mihalache, Sabin Borș, with sound (music) - Sound Choir conducted by Voicu Popescu and image (film) - experimental films about architecture and video art.
SOUND Choir, under the baton of Voicu Popescu, had two performances: the former, included songs from the Negro spirituals and jazz repertoires while the latter was a collage, in collaboration with flutist Ștefana Molnar from Cluj and Dj Ștefan Ciobănete from Bucharest.
Conductor Voicu Popescu was king enough to accept our interview invitation, from which we extracted a few ideas: "The challenge given by Arhitextdesign Foundation's director, Arpad Zachi, turned our attention to the notion of "Thresholds" as philosophical elements and more, while jazz was chosen as a milestone - a threshold that launched music in different directions - positions.
During the first concert, held at the Cultural Centre Hall in Dealul Frumos, we showed the pre-existing genres of jazz - the traditional spiritual and even African music, along with the scores of famous names of the American Jazz: George Gershwin, Irving Berlin, Duke Ellington and others.
The evening after, in the town's fortified Church, we gave the public an interesting perspective, by making an "assembly", where the main substance was jazz, overlapped by pre-recorded fragments by Dj Ștefan Ciobănete and improvised interventions of flutist Ștefana Molnar. The collage was conceived as a logical flow, without the traditional applauses between pieces, thus giving the impression of an almost theatre-like performance of the selected repertoire. Of course, music proved once more its ability to offer people an enlightening perspective, through its purifying effect.
The performance of SOUND Choir was received with great interest and enthusiasm, both by the participants of the experiment and the other spectators that were not present at the event. And this is due to the fact that, in the days spent at Dealul Frumos, the ensemble singers were as happy to sing off the stage as they were when they sung on it... to the delight of everyone! An enthusiasm and a pleasure of singing that brought us three wonderful days at... Dealul Frumos.
Adriana Nițu
Translated by Andra Stroe and Andreea Velicu
MA Students, MTTLC, Bucharest University