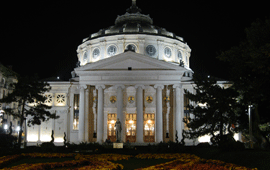 The "Ad Libitum" Quartet performed at the Romanian Athenaeum
Tuesday, 27 July 2010 , ora 17.03

On Wednesday evening, July 21st 2010, the crowd which almost filled the main hall at the Romanian Athenaeum showed that the music represents a permanent necessity and the idea of a summer season in Bucharest was very well received. This time, the "Lanto Arte" Association presented the members of the "Ad Libitum" Quartet of the Iasi Philharmonics: Adrian Berescu, Șerban Mereuță, Bogdan Bișoc and Filip Papa.

The artists showed through works by Mozart, Schubert, Haydn, Puccini or Mahler that chamber music was conceived and inspired for pleasant evenings, in times when the idea of a stressful life had not been invented and when people used to have time – to quote a Romanian writer. On the other hand, chamber music is very hard to perform because one is uncovered and the audience can hear absolutely everything the artist is doing. And the audience could indeed hear very well what the members of the "Ad Libitum" Quartet had to offer: moments of calmness and of romantic impetus, communication and perfect timing between the members, with perfectly synchronized take-overs, a firm sound, soft on the whole and with no pauses at all.

They received many applause, only after well-known pieces like Dansul țărănesc by Constantin Dimitrescu, Haydn's Serenade, a transcription of the Adagietto in Mahler's Symphony No. 5 – also a hit but of a different type. The performance offered endless visions of a solitary spirit, which was represented in the softest possible way as if the performers had had all their instruments on mute, of incredibly intense seconds and a most profound sound, which did not emerge out of the high nuances, but out of the depth of the performance and the implication of the musicians.

The members of the Quartet were welcomed and rewarded with a lot of enthusiasm at the Romanian Athenaeum; in their turn, they smiled and were delighted to receive our applauses. I wish to hear them perform more often in Bucharest.
Maria Monica Bojin
Translated by Sînziana Mihalache and Andreea Velicu
MA Students, MTTLC, Bucharest University