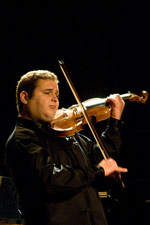 Ilian Gârneț at the Romanian Athenaeum
Thursday, 4 February 2010 , ora 12.59

On the evening of February 4th 2010, I had the opportunity to listen to the live performance of the musician whom a few months ago I had watched in Dmitri Shostakovich's Concerto in A minor for Violin and Orchestra on a French television channel, in the finals of the prestigious competition 'Queen Elisabeth' in Brussels.

Ilian Gârneț (photo), the person I was talking about, won the third prize then. He was back in Bucharest, for the second time on stage of the Romanian Athenaeum (the first time was on August 18th 2009, in a concert with the National Youth Orchestra that has already been broadcast by Radio Romania Music). He performed in an lovely programme with the Philharmonics Orchestra: first, a version for violin and orchestra, played in 'folk Romanian style', of Enescu's Third Sonata, followed by Franz Waxman's wonderful Fantasy 'Carmen'.

The piano score of Enescu's Sonata was orchestrated by Valentin Doni, who also conducted the concert. How did it sound? At times, it was too exuberant (maybe because of the orchestral apparatus that was too large for a chamber ensemble). At other times, as in the beginning of the second part, it was very delicate and soft, keeping the original feeling of that moment. There were times when the musical instruments, that should only have accompanied, were much too present, entirely covering the violin score.

Ilian Gârneț – the reason many Conservatory students were present in the auditorium – not only didn't leave much to wish for, but I dare say he thrilled the audience. Of course, the selected works, especially Franz Waxman's themed Fantasy from Bizet's Carmen, contributed to the violinist's success, who won the audience over through virtuosity, good-taste, intelligent construction of the phrases and that naturalness, very much 'sought by others' , if I may say so.

After the encore – Grigoraș's Hora Staccato – and the interlude, a man behind me began to hum impatiently the first notes of Georges Bizet's 'L'Arlésienne' Suite. Comparing it with a painting, I dare say the strokes were much too thick. The moments of softness were pretty much absent, but on the whole the performance was decent and accurate.
Irina Cristina Vasilescu
Translated by Cristina Cărămidă, Andreea Velicu
MA Student, MTTLC, Bucharest University