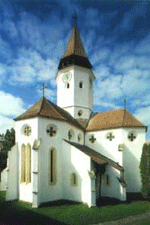 Diletto Musicale Festival has begun at Prejmer
Tuesday, 3 August 2010 , ora 12.10

Sunday, August 1st, 2010, the Annual Festival Diletto Musicale 2010 has begun at Prejmer, in Brașov county. On this occasion, the choral ensemble Jugendbachchor, conducted by Steffen Schlandt, performed a very interesting and well organized programme. It started with Vespro della Beata Vergine by Claudio Monteverdi, celebrating four centuries from the creation of this work. The programme then continued chronologically with works by Schütz, Vivaldi, Cherubini, Dvóràk, Schumann, before finally returning to Baroque with the cantata Jesu bleibet meine Freude by Johann Sebastian Bach.
The pieces presented were not all only for the choir. Concerto for Oboe and Orchestra by Antonio Vivaldi and Romance by Schumann were performed having as oboe soloist a very talented player, Emin Curtgeafar, impressive not only for his accurate technique, but also for the sensitive way in which he led the discourse of sounds. Emin Curtgeafar is member of the Brașov Philharmonic; he was also remarkable in other concerts when he performed solo parts that showed his high class training. At Prejmer, his performance was impressive, to the audience's great appreciation.
The choir is very well trained; the entries were always characterized by accuracy which can only be due to the renowned German precision. It was a pleasant surprise to listen to the solo parts of the mezzo-sopranos. Very nice pitch, certainty and colour are only three of the features that drew one's attention. It is also true that the acoustics of the church were an excellent amplifier. Still, considering that among the members of the choir there are many who do not take canto lessons at the Conservatory, their clear performance has to be acknowledged. The fugues were performed very accurately, which seldom happens.
The atmosphere itself was very enchanting. The rain, the music and the eight-century-church transported us to a seductive timeless space, took us out of time as we know it. All who came to listen enjoyed that evening, a fact proven by the applause that drowned out even the thunders outside. It was no surprise that the ensemble conducted by Steffen Schlandt performed another two encores. The evening pleasantly ended with the traditional treat offered by the organizers to the audience. Diletto Musicale Festival continues with a concert performed by the Quartetto Brassovia on August 8th.
Petra Gherasim
Translated by Mirela Oprina and Andreea Velicu
MA students, MTTLC, Bucharest University