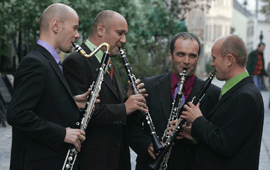 From Classical to Jazz: Vienna Clarinet Connection
Thursday, 11 February 2010 , ora 13.42

Recently, the jazz music present on Romanian stages has been "stormed" by waves of Austrian musicians. The series of recitals organized by The Austrian Culture Forum at "Green Hours" Club is one more proof of this fact. On the evening of February 11th, the members of Vienna Clarinet Connection quartet were invited to sing during the second episode of the series entitled Austrian Hours at Green Hours. What happens when four musicians start by singing classical music but end up performing a completely different style, like jazz?

The ensemble's composition, somewhat "unusual" for this kind of industry, due to the presence of a corno di bassetto, had its consequences on the repertoire chosen by the four clarinetists: most of the musical scores are either personal compositions or musical arrangements made by Helmut Hödl, one of the members of "Vienna Clarinet Connection". The perfect synchronization and the impeccable technique were proof of their experience as a musical group focusing on a minimal jazz style; moreover, the repeated melodic patterns and the rhythmic ostinatos inspired from Viennese tradition were accompanied by echoes of Balkan music in some of the songs.

And although the improvisation, which is characteristic of jazz music, has somewhat been placed second during performance, the moments of irony and humor, marked by suggestive timber effects, were not absent. At the end of the show, works such as Rhapsody in Blue and Summertime taken from George Gershwin's Porgy and Bess opera have demonstrated the clarinets' capacity to reveal both suspense and inner harmony.
Alexandra Cebuc
Translated by Andra Stroe, Andreea Velicu
MA students, MTTLC, Bucharest University