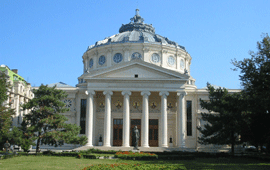 Masterpieces of chamber music at the Romanian Athenaeum
Friday, 20 August 2010 , ora 10.17

The evening of August 11th 2010 was a very nice one. It was nice as two masterpieces of chamber music, Piano Quartet Op. 47 by Robert Schumann and Piano Quintet op. 114, Trout, by Franz Schubert brought a gentle delight into our hearts.

Moreover, the Athenaeum was a good host and offered through its splendid marble the coolness that, in vain, we all craved for. Who were the performers?

For the eleventh time, Marin Cazacu organizes in Sinaia the George Enescu and world music Festival. Most of the performers are going to interpret in Sinaia also. They are dealing either with the young musicians from the National Youth Orchestra or Sinfonietta junior Orchestra, either with the performance of recitals.

Pianists Maruxa Llorente and Steluța Radu, violonist Bogdan Zvorișteanu, vionists Cristian Ifrim, Marius Nichiteanu, cellist Marin Cazacu and contrabass Săndel Smărăndescu, all those were known not only on the Romanian territory, but also on the international stage for the skill they posses in playing and in dealing with the young generation.

The recital had a generous audience composed of musicians, an audience that gave applause to the absolutely sensational opposites of Schumann and Schubert. We wish them further success in training the young masters in Sinaia, where important events happen for the future of Romanian and European music. It is there where our future performers develop themselves.
Ecaterina Stan
Translated by Loredana Matei and Andreea Velicu
MA students, MTTLC, Bucharest University