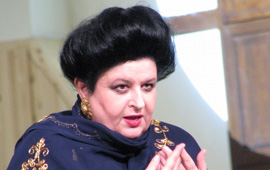 The Gala of the "Hariclea Darclée" International Festival and Contest in Brăila
Friday, 20 August 2010 , ora 11.13

Late during the evening of Sunday, August 8th , 2010, was the conclusion of the 15th edition of the "Hariclea Darclée" International Canto Festival and Contest initiated by soprano Mariana Nicolesco.
A total of 150 years have passed since the birth of our great soprano, whose name has been honoured once again due to the presence of the 184 young people attending from all over the world. It was a 13 day marathon – the contest and the festival, the recitals, Don Pasquale, opera in concert, a concert on the Danube Esplanade and the Evening Gala. There was a bumper attendance at the "Maria Filotti" Theatre Hall every evening and the prize competition was very tight indeed.
Many young and beautiful voices of young people at the beginning of their career competed artistically with the experienced ones for generous prizes.
The largest Prize which was worth $15.000 was won by soprano Edith Borsos from Romania and baritone Alvaro Lozano Guttierez from Spain. The First Prize worth $10.000 was won by the Russian baritone Alexei Lavrov, the Serbian mezzo-soprano Sanja Djuradjevic and the Romanian tenor Cristian Mogoșan. The second prize, worth $7.000, was divided amongst three Romanian sopranos from Bucharest: Iulia Dan, Veronica Anușca și Valentina Naforniță. The third prize, worth $5.000, was won by the other three Romanians: the sopranos Luiza Fatyol, Adela Zaharia and the baritone Bogdan Baciu, all of them from Cluj. Because there were so many other competitors with beautiful voices, (as mentioned above), extra prizes were offered and the tiebreaker proved very difficult indeed.
The events in Brăila celebrating 150 years from Hariclea Darclée's birth, under the guiding influence of the soprano Mariana Nicolesco created an atmosphere of celebration. The audience was far greater in number than ever before and not only were the high number of competitors heartening but also their value, which was measured by their vocal and interpretative qualities.
I think this edition of the "Darclée" International Contest closed one stage but then opened up yet another in which Brăila, Darclée's town has entered the circuit of the most important contests in the European Union. This can bring advantages not only to the public and the artists alike but also for us all.
Mihaela Soare
Translated by Elena Daniela Radu and Andreea Velicu
MA students, MTTLC, Bucharest University