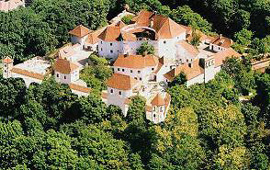 Music City of Brasov has opened its gates to music
Monday, 23 August 2010 , ora 16.36

Music

City

of

Brasov

,

August 13-19, 2010

, is the festival that you look forward to each summer, because music succeeds best to counteract the scorching heat that numbs our senses worse than the biggest snowstorm.


And Sherban Lupu`s approach is admirable, as he is one of those artists who have never forgotten their roots, that return to Brasov, not only for concerts but, here, for organizing this seasonable festival, despite the crisis that can be felt increasingly acute. Obviously, the composers honoured in 2010, Schumann and Chopin, are as well present with their work in Brasov festival.

Today's events count the fourth day, so it should be proper to relate what happened before. Let's start with the previous day, August 15, 2010, for soprano Georgeta Stoleriu had a magnificent recital at the Roman Catholic Church to celebrate St. Mary. Her voice could itself fill the whole church in, without the slightest hesitation. Airs of Bach, Handel, Mendelssohn, Liszt, all of them reached the perfect accuracy of modulations and tones, as soprano excelled in her interpretative art. I would say that the most touching moment was the one when Georgeta Stoleriu sang Ave Maria by Giulio Caccini. Paul Christian, who played the organ for accompaniment, had a fairly clear interpretation, but far from the soprano's talent. Sherban Lupu played Air for G string for violin and organ by Johann Sebastian Bach. Unfortunately, we could talk more about another accompaniment, a less pleasant one: noises coming from the audience, that seemed to be shaken by a serious and irrepressible cough. Not to mention the noise of various fallen objects whose echo could be heard and took care to anchor you back on reality when you were at heaven's doors hearing airs sung by Georgeta Stoleriu.

Saturday, at the Redoubt Cultural Center, we listened to Sonata op. 109, no. 30 for piano played by French pianist Henri Bonamy. I would say he offered an interesting interpretation, especially in the second movement, where we witnessed a special tenderness that reminded me vaguely of Chopin and Debussy, but carrying Beethoven's specific vigour.

In the two consecutive evenings pianist Cordelia Hoefer and cellist Teusch Goetz, from Germany, appeared on stage. The audience was ecstatic after listening to the Polonaise Brilliants for cello and piano, which was interpreted in the first evening, and the Sonata for cello and piano, that was played in the second night, both composed by Chopin. But I have some restraints; I thought that the works lacked the dreamy melancholy that made any work of Chopin unmistakable. Violist Daniel Rubenstein has a pleasant timbre, which I discovered while listening to his Märchenbilder for viola and piano by Robert Schumann. Violinist Jennifer Curtis is well-known as a very good interpreter, but she was a little uneven, both in her playing Sonata no. 1 op. 105 in A minor for piano and violin by Schumann, and also in Ballade Sonata for solo violin by Eugene Ysaÿe.

You certainly know Sherban Lupu: pleasant tone, especially sensitivity and mainly dedication. The festival continues and I shall come back with details soon.
Chronicle by:Petra Gherasim
Translated by Alinda-Gabriela Guțu (Ivanov) and Andreea Velicu
MA students, MTTLC, Bucharest University