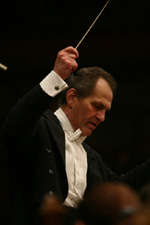 The sound of music performed by people who really want to play it
Thursday, 19 August 2010 , ora 13.42

I flinched with interest and surprise from the first musical sounds interpreted by
The Romanian Youth Orchestra
; the vivid pace, and powerful blast of the symphonic poem
Don Juan
by Richard Strauss, the opening song of the concert, showed from the very beginning the energy, the expressivity, the rich, full, ample sound, of musicians.
In
Prelude
and
The Death of Isolde
, even if signed by Wagner –maybe one a too little romantic – the orchestra marvellously interpreted the moments of musical suspense, of sharp contrasts, of sighing, in a word, all the Wagnerian musical rainbows.
The Forth Symphony in F minor
by Tchaikovsky, although a little too fresh because of a yet youthful thinking, was impetuous, passionate, and in the 3rd part, the "hit" of the work performed by pinching the strings, the musicians yielded fun and seriousness in equal doses.
The program was well chosen to use up all the temper and excitement characteristic of the young who feel at ease with the freedom and excesses of romanticism. It made a perfect match with the excellent brass and cello interpretation, which really stood out.
The members of the Romanian Youth Orchestra are part of this band because they genuinely want to and this can be seen, heard and felt. The play very well, passionately, and with the dedication and involvement of soloists, with a sense of responsibility, they are enthusiastic and attentive at their conductor- and here comes the master Cristian Mandeal, who yesterday evening - Wednesday, August 18th - was essentially a friendly conductor: he gave up the musical score and thus destroyed the barrier created by the desk, he smiled at the musicians, he was chief and colleague in the band and led the young musicians as he would have led a group of mature professionals. The results materialized into endless applause from both sides of the concert podium.

The Romanian Youth Orchestra (I found this out from the program) will also perform in the next edition of the Enescu Festival which is a good thing, because they are an ensemble by which Romania stands out both here, and also abroad.
Maria Bojin


The Romanian Youth Orchestra conducted by Cristian Mandeal performed on August 18, 2010 at the Romanian Athenaeum, during the 11th edition of International Festival Enescu and world music, and during the series of Musical Soirees in Bucharest organized by the Cultural Association Lanto Arte'. The ensemble presented a program consisting of the Prelude and The Death of Isolde by Richard Wagner, the symphonic poem Don Juan by Richard Strauss and The Fourth Symphony signed by Pyotr Ilyich Tchaikovsky.

Here's what master Cristian Mandeal told us about this program:

"I think this is a program of maturity showing the top level reached by The Romanian Youth Orchestra in three years of sustained activity. It is the first time when we present this repertoire, as each of our projects puts forth a new program. I try to create each program so as to mark our evolution. Currently, we set out to approach the great romantic repertoire, which we have left out so far. Up to this moment, we have interpreted classical music or 20th century music. Now however, a period of high romanticism is to be approached, especially since this year we have managed to make up a larger orchestra which allows for this type of repertoire to be interpreted.''
Interview by Larisa Clempuș

Translated by Elena-Loredana Pastrav and Andreea Velicu
MA Students, MTTLC, Bucharest University