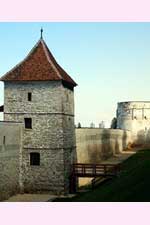 The Musical Fortress of Brașov - Finale con fuoco
Monday, 23 August 2010 , ora 15.49

On August 19th, 2010, The Chamber Music Festival -The Musical Fortress of Brașov ended.
The evening seemed to be fairly interesting considering the fact that theth anniversary since George Enescu's birth was being celebrating. The programme began with Waltzes op. 39 for piano, four hands by Johannes Brahms interpreted by Henri Bonamy and Lilian Akopova. The latter proved to be a talentated piano player, full of sensitiveness and energy. What I liked was the way in which she balanced the dynamic effects succeeding to pass naturally from the subtlest nuance of piano to forte.
Then, there followed Enescu's op. suites. Jennifer Curtis walked onto the stage to interpret Romanian Folk Style Arias for solo violin. Her tone was that of a really temperamental violin player, but I think that her mistake was that she tackled Enescu's score as if it had been Paganini's, focusing on performing the virtuoso excerpts and neglecting the real Romanian folk characteristic of the pieces. For all that, I think that playing Enescu is a test that only a true virtuoso is able to pass, because only such an artist would know how to surpass any kind of barriers. We cannot expect a young American violin player to be able to identify herself totally to a culture that is so different from hers. Then, there followed the Fantasy Concertante for Solo Violin in the same interpretation.
Before the intermission, Ville d'Avrayan Nocturne for violin, viola, cello and piano was performed for the very first time. It is an amazing piece, an extremely original creation, but a rather slovenly interpretation, as it also happened with The Piano Quintet Op. 44 by Robert Schumann played after the intermission. But before this, I will have to remark "the surprise" of the festival: Jennifer Curtis walked on the stage with a mandolin, accompanied by Daniel Rubenstein who passed to violin and the cello player, Goetz Teutsch. They played a creation signed Jennifer Curtis, entitled The Lighthouse Song. It is a piece that resounds of characteristics that remind us of Renaissance to which a more modern rhythm was added which seems to have enraptured the audience of Brasov. I am again reserved.
Regrettably, the Schumann Quintet was a total disappointment. I do not know how many times Șerban Lupu, Jennifer Curtis, Daniel Rubenstein, Goetz Teutsch and Cordelia Hoefer have rehearsed this piece, but it was obvious at first sight that they were not regular stage partners. There is not space enough to enumerate all the musical moments when they overlapped and more than once Jennifer Curtis happened to come in too earlier when, for example, they had to play a pizzicato in unison. Cordelia Hoefer made countless blunders especially at the beginning of the third part, when she had to play those scales in octaves. It is a pity about this final failure. The audience did not notice that anyway… I remembered that opus and the way in which the Belcea Quartet presented it at the Romanian Atheneum last year and I felt a deep nostalgia.
However, the festival was well received while Șerban Lupu's initiative cannot be less appreciated.
Petra Gherasim
Translated by Elena Daniela Radu and Andreea Velicu
MA students, MTTLC, Bucharest University