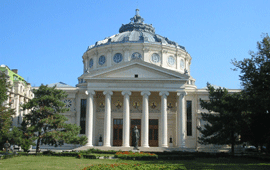 Great Performers meet at The Romanian Athenaeum: Valentin Gheorghiu and Gabriel Croitoru
Monday, 30 August 2010 , ora 12.33

Entitled Great Performers, Chamber Ensembles and Orchestras at The Romanian Athenaeum, yesterday night, August 25th, pianist Valentin Gheorghiu and violinist Gabriel Croitoru performed a new recital within The Musical Soirées in Bucharest.
The programme started with
Piano and Violin
Sonatina
by Antonin Dvorak, the last chamber opera composed while he was visiting America. Even from the first tones, one can feel the sensibility of the expression and of the thematic and tonal contrasts, but also dialogues and adaptations of musical ideas in order to permanently unify the sounds.

The Piano and Violin Sonatina was followed by The Third Piano and Violin Sonata, with "a definite Romanian personality" by George Enescu, performed by Gabriel Croitoru on the Guarneri "del Gesù" violin that once belonged to the Romanian composer. The ornamental richness, the three-quarter tone or the parlando-rubato rhythm were perfectly highlighted by the sonority of the violin also known as "The Cathedral". I have truly felt that emotional impulse that Gabriel Croitoru hoped to give by performing the Sonata on this instrument. And the maestro Valentin Gheorghiu distinguished through a deep aproach of each musical phrase, being at the same time a solo artist and a chamber partner.
The last work in the programme was
The Kreutzer Sonata
by Ludwig van Beethoven, a musical piece full of energy, with an intense character, in which each of the two musicians had the opportunity to prove their undeniable performing artistry. Besides the obvious solo qualities, Valentin Gheorghiu and Gabriel Croitoru, have showed once again what a solid duo they are, a duo that has earned through experience and commitment that expressive unity every chamber ensemble needs. More over, they were, once again, friends on stage, as they are in their daily life.
Andreea Chiselev
Translated by Cristina Mihaela Sandu and Andreea Velicu
MA Students, MTTLC, Bucharest University