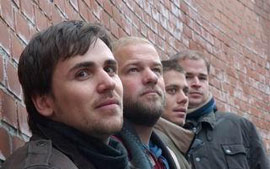 Austrian Hours at Green Hours
Thursday, 18 February 2010 , ora 16.05

On the evening of February 18th, 2010 a new Austrian Hours concert took place at the Green Hours jazz club in Bucharest. This time, Christoph Pepe Auer quartet took the stage. This was not the ensemble's first visit to Romania, as the artists were previously invited to the "Plai" Festival in Timisoara, but it was however their first time in Bucharest.

The four musicians – saxophonist Christoph Pepe Auer, pianist Martin Reiter, bassist Matthias Pichler, and drummer Peter Kronreif – performed personal compositions only, from what they call The New York Sessions and The Vienna Sessions. The first category contains songs written in New York and influenced by the sounds of artists such as Wayne Shorter, Jimmy Merritt and Ornette Coleman. The second session includes songs written at "home", in Vienna.

Therefore, we could say that we listened to a modern type of jazz, but even though the style was far from being traditional, it also lacked innovation. On the other hand, their university training was more than obvious. It has more to do with a certain attitude towards music than with an actual technique. The original elements used in the sessions were calculated with accuracy; Christoph Pepe Auer had a passion for effects obtained either by clarinet or by saxophone; all songs were played with a certain string, they were measured a little too accurately.

The members of the quartet, however, proved their professionalism and their sense of humor as well – at the end, they played a song inspired from the '90s techno hit called "Rhythm of the Night" belonging to the Italian band Corona.

The next event from the series of Austrian Hours at Green Hours concerts is scheduled to take place on Thursday, March 4, 2010.
Andra Ivănescu
Translated by Andra Stroe,
MA student, MTTLC, Bucharest University