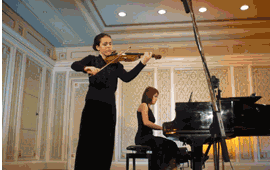 Tuesday Evening Season
Tuesday, 16 February 2010 , ora 16.10

The evening of Tuesday, February 16th 2010, gave us the opportunity to listen to two recitals performed by two pupils of the 'Dinu Lipatti' Music High School in Bucharest.

Daria Ioana Tudor was born in Ploiești in 1997. She began to study piano at the age of 4. She has won a great number of first prize awards since 2002 in competitions such as 'Paul Constantinescu', 'Pro Piano', 'Marțian Negrea', "Golden Lyre", 'Jeunesses Musicales', 'Antonio Miserendino'. She was guided by professor doctor Șerban Dimitrie Soreanu and she attended Léa-Jeanne Litzler Adam's classes.

Daria Tudor performed recitals in Bucharest, at the Philharmonics of Ploiești, at the Romanian Cultural Institute in Berlin. She performed in concerts with the Radio Chamber Orchestra conducted by Alexandru Ganea and the 'Paul Constantinescu' Philharmonics Orchestra of Ploiești conducted by Ion Ionescu-Galați. She took part in radio and television shows (e.g. Musicians of today, musicians of tomorrow). At the moment, she is a pupil of the 'Dinu Lipatti' High School, in professor Adriana Bocăneanu's class.

The recital on the evening of February 16th included Ludwig van Beethoven's Piano Sonata No.6 in F major, Op.10/2 and Frederic Chopin's Scherzo No.1, Op.20 in B minor and Etude Op.25 No.1 in A flat major. The young piano player proved to have indisputable qualities: a very good technique, melodiousness and the eagerness to communicate her artistic emotions. However, the number of discrepancies led us to the conclusion that time would be of great help in achieving a better self-control, necessary to every good musician.

Georgeta Ioana Iordache is a ninth grade pupil of the same music high school in Bucharest. She won a great number of awards – 50 first prize awards – in national and international violin competitions. In November 2007 she became a member of the European Union International Youth Orchestra (the CEI Youth Orchestra) and she took part in a tour in Italy and Slovenia. In 2008 she received the First Prize and the Grand Prize at the 'Gianluca Campochiaro' International Competition in Italy, where she performed in a category of age superior to her own (24-30 years old). She took part in a tour in China with the orchestra of the 'Dinu Lipatti' Music High School.

On Tuesday, February 16th, Georgeta Iordache performed Wolfgang Amadeus Mozart's Sonata KV 570 in B flat major with piano player Daria Tudor, the Sarabande and Gigue from Johann Sebastian Bach's Partita in D minor for solo violin, as well as Vasile Filip's Poem for violin and piano and Pablo de Sarasate's Carmen Fantasy accompanied on the piano by Daniela Tudorache.

Violinist Georgeta Iordache performed in a sensible manner, which allowed us to perceive the good technique she possesses. However, unfortunately, the high number of inadvertencies (especially during the Carmen Fantasy) was a disadvantage to her interpretation.

The two performers, with the exuberance of their youth, managed to convince us of their exceptional talent that would allow them, in time and with a lot of hard work, to go on that particular way that every musician aspires to... We wish them good luck.
Adriana Nițu
Translated by Cristina Cărămidă
MA Student, MTTLC, Bucharest University