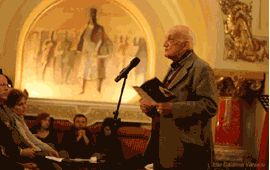 Opening of the Old Music Season
Friday, 12 February 2010 , ora 16.14

In the evening of February 12th, 2010, in the Byzantine Hall of the National Military Circle, the opening of the first edition of the Old Music Season in the Capital took place. This comes, the organizers stated, as a natural follow-up of the Old Music Festival and other similar manifestations and the goal is to fill in a gap in Romanian cultural life.

Indeed, the public who likes old music is increasing and this could be seen on Friday, February 12th.

The amphitherion was the historian Neagu Djuvara, who enchanted us with his first memories connected to music, regarding his mother – Tinca Grădișteanu – who had graduaded the Conservatory and other members of the family who had been music players. Anyway, the conclusion he drew was that even if he liked Wagner very much when he was young, now he is convinced that perfection can be found in his music, but also in Bach's or Mozart's music.

In the first concert of the Season we could listen to two motets by Johann Sebastian Bach – "Jesu, Meine Freude" and "Lobet der Herrn, alle Heiden". The interpreters were the members of the Cantemus vocal quintet, namely sopranos Raluca Enea, Dana Caraman, Haricleea Marica – alto, tenor Florian Costea and Bogdan Tudor – bass. Irina Năstase played the clavichord.

The concerto was concised and nice and we are looking forward for the next concerto within the Season, which takes place on February 26th 2010.
Andra Ivănescu
Translated by Zenovia Popa
MA student, MTTLC, Bucharest University