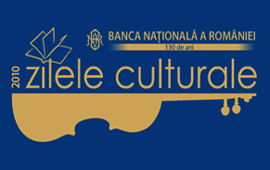 Inaugural concert of the Cultural Days of the National Bank of Romania
Tuesday, 7 September 2010 , ora 10.39

On Sunday evening, September 5
th
, 2010, the Cultural Week opened, organized by September 10 by National Bank, an institution that celebrates, in 2010, the 130 years anniversary.
In the opening of the inaugural concert - held in the Great Hall of the Romanian Athenaeum - Mugur Isarescu, NBR Governor and the special guests of the evening, Jean-Claude Trichet, the President of the European Central Bank, and Traian Basescu, President of Romania, have delivered speeches.
The Philharmonic Orchestra in Bucharest, conductor Horia Andreescu and pianist Andrei Licaret had the honor to inaugurate the Cultural Week of the National Bank of Romania. The program presented by the musicians was chosen in agreement with the organizers and included opuses of some of the most famous East Europeans composers - as Mugur Isarescu stated in his speech.We thus listened to Romanian Rhapsody No. 1 in A Major by George Enescu, the symphonic poem of the Vltava by Bedrich Smetana, Parts II and III from Concerto no. 1 in E minor by Frederic Chopin, Six of Romanian dances by Bela Bartok, a waltz and a polka by Johann Strauss II, and the famous Hora staccato by Grigoras Dinicu (orchestrated by Vladigherov Pancio).
Consequently, the program was very attractive, and had as center of gravity the two moments elicited from the Concert in E minor by Chopin, performed with great delicacy by the pianist Andrew Licaret.
As an encore, the orchestra performed the famous waltz Danube Waves by Joseph Ivanovich, a work written in the same year the National Bank came into existence - 1880.
Irina Vasilescu
Translated by Elena-Loredana Pastrav and Andreea Velicu
MA Students, MTTLC, Bucharest University