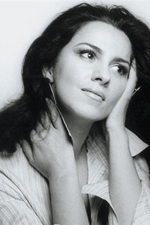 Angela Gheorghiu - a day to remember
Tuesday, 7 September 2010 , ora 10.44

September 6
th
2010: A day to remember. This was how the concert - within which all glances were cast on
Angela Gheorghiu -
was brought forward. A memorable day, indeed, for all those who love the famous soprano, an unforgettable day especially if we take into consideration the rare occasions in which we can listen to her on the stages in Bucharest.
The artist was accompanied throughout the concert - at which access was made only by means of invitations - by the 'George Enescu' Philharmonic Orchestra, conducted by Tiberiu Soare, with which Angela Gheorghiu collaborated on some other occasions, too.
The solo moments interchanged with the instrumental music pages, within a dynamic and highly attractive programme. If the first part of the evening was opened by Rossini's The Thieving Magpie Overture - made up of arias and duets from Handel, Verdi and Puccini's operas, throughout the second part we listened to George Enescu's Romanian Rhapsody No.1, to arias and duets from Gherase Dendrino, Franz Lehar and Frederick Loewe's operettas. As a last performance, Brindisi from Verdi's La Traviata was repeated.
It was an electrifying musical evening, and Angela Gheorghiu's voice and stage presence made us paper over the less successful moments within the concert, the most disturbing ones being those in which the orchestra covered the solists's voices. Beyond these little careless moments, Tiberiu Soare was, this time too, an accurate and efficient conductor.
If throughout the concert held last year within the Constitution Square the soprano performed alongside with the tenor Vlad Miriță, on September 6th 2010, the duets were performed with the the tenor Marius Manea. A musician with a rich voice and a colour tone that reminds those past times within the history of opera, Marius Manea showed his pride regarding the strength and the extension of his voice, which would however need a more richly coloured dynamic palette.
I will end up with a 'Happy Birthday !' wish, addressed to the soprano Angela Gheorghiu, who celebrates her birthday on September 7th.
Irina Vasilescu
Translated by Neculai Cristina and Andreea Velicu
MA Students, MTTLC, Bucharest University