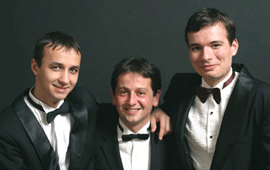 Musical Evening with the "Romanian Piano Trio" at the Romanian Athenaeum
Monday, 13 September 2010 , ora 11.20

Romanian Piano Trio is a well-known ensemble to our audience, which holds the attention through the relaxed, slightly nonconformist performances, always characterized by professionalism and simplicity. On September 8th, 2010, as well, the members of the group - the violinist Alexandru Tomescu, the pianist Horia Mihail and the violoncellist Răzvan Suma - concertizing soloists of the Radio's Orchestras, have managed to attract to the concert hall an impressive number of music lovers, who have filled entirely the Great Hall of the Romanian Atheneum.
Furthermore, the repertoire chosen by the musicians was an accessible and diverse one, too, "a summer programme at the beginning of September", as Alexandru Tomescu himself named it. The musical evening started with the third part "Rondo all'Ongarese" from the Trio in G major by Joseph Haydn, a melody whose ebullient energy was perfectly brought out by the three instrumentalists. By the end of the first part, there were famous romantic pieces, such as: "The Swan" by Camille Saint-Saëns, the "Flight of the Bumblebee" - a work by Nikolai Rimski Korsakov, performed assurance and intonational accuracy by the violoncellist Răzvan Suma, "Meditation" from the opera "Thaïs" by Jules Massenet and "Zapateado" by Pablo de Sarasate, a piece which creates impact on the audience, always included in the programmes of the Romanian Piano Trio. "Passacaglia" was inserted among all these works, the creation written by Johann Halvorsen on a theme by Händel, an extremely difficult music score, which valorised the technical and expressive qualities of Alexandru Tomescu and Răzvan Suma.
After the break, the musicians performed the lovely "Four Seasons of Buenos Aires" by Astor Piazzolla, completing the success of the recital enjoyed by the ones present in the hall. And if you could not attend this event, we remind you that the Musical Evenings organised this summer at the Athenaeum have been recorded by Radio Romania Music and will be aired soon.
Larisa Clempuș
Translated by Alexandra Dumitru and Elena Daniela Radu
MA students, MTTLC, Bucharest University