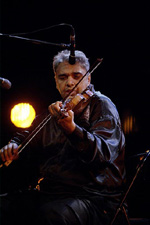 Florin Niculescu and the musical work "East-West"- performed for the first time, in Romania, at The Romanian Athenaeum
Monday, 20 September 2010 , ora 10.22

"
Florin Niculescu
, a remarkable, precise, agile and dynamic musician, is Stephane Grappelli's most valuable successor"- and this is only one of the favourable reviews that characterize the Romanian violinist within the pages of some important French magazines, starting from 1990 when the musician emigrated from Romania to France. Although not so popular in our country, Florin Niculescu is considered to be one of the first class exponents of the violin players of the European jazz. Abroad, he has built a solid career, performing with famous artists such as Oscar Peterson, John McLaughlin, George Benson, Branford Marsalis, but he has also made himself known to a wider audience by collaborating with musicians like Charles Aznavour, Patricia Kaas or Patrick Bruel.
In his performance at The Romanian Athenaeum on
September 11th 2010
, Florin Niculescu, presented for the first time to the Romanian public a musical work called "East- West" orchestrated by Constantin Arvinte. The rhapsody was peformed in
Paris
for the first time in 1994 and ever since it has been appreciated in important music halls from
New York
and
Geneva
. The musical work combines harmonic structures inspired from the literate creation, which remind us of the sonority of Ravel or Debussy's music, with elements taken from the fiddlers' music and with improvisational jazz. The violonist's performance highlighted the agogic pallet and the diverse dynamic of the work, impressing through an impecable technique, accompanied by an extraodinary ingenuity. Florin Niculescu was accompanied by The George Enescu Philharmonic Orchestra, conducted by Horia Andreescu and by his own quartet of instrumental performers from France, formed by the pianist Thuryn Michell, the guitarist Sanson Schmit, the contrabassist Darryl Hall and the percussionist Bruno Ziarelli; a very creative ensemble, which impressed through homogeneity and professionalism, performing together with the Romanian violonist, with a few works signed by Django Reinhardt at the end of the soiree. In conclusion, it was an original successful concert which was a great success with the audience, recorded by Radio Romania Music.
Larisa Clempuș
Translated by Cristina Sandu and Elena Daniela Radu
MA student, MTTLC, Bucharest University