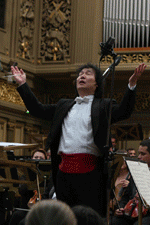 Italian Evening at the Romanian Athenaeum
Friday, 24 September 2010 , ora 9.04

Under the baton of Jin Wang, the Chinese orchestra conductor, "George Enescu" Philharmonic Orchestra concertized on September 22nd, 2010, having Anne Cebotari as a soloist soprano within The Musical Evenings in Bucharest. The program included arias and musical moments for orchestra by Italian composers such as Giuseppe Verdi, Gaetano Donizetti, Giacomo Puccini and Gioachino Rossini.
Since its beginning, the orchestra was valued for the Overture of La Forzza del Destino due to the homogeneity of the instrumental partitions, diversity of dynamics of the rhythm and a desire for a compelling interpretation. There should be mentioned conductor Jin Wang's art, whose professionalism is equally appreciated by the public and the musicians.
A new name on Athenaeum's stage was young soprano Anna Cebotari, who is a MA student at the National University of Music in Bucharest. Possessing good technical skills, but rather small volume, the soprano could not reach the lyrical interpretation requested by the famous arias such as Musset's from La Bohème or Siempre Libera from La Traviata. Unable to penetrate the profoundness of the roles she approached, Ana Cebotari won public admiration by the warmth of her vocal timbre, sensitivity and a pleasant stage presence that she showed.
Returning to the Philharmonic Orchestra, the instrumental moments such as overtures of William Tell and The Barber of Seville, or the Triumphal March from Aida were all successful from both technical and interpretation point of view, and above these, the brass partition must be also mentioned. Conductor Jin Wang was warmly welcomed again by the public of Bucharest and he answered the audience's invitation by playing Verdi`s Brindisi as encore.
Andreea Chiselev
Translated by Alinda-Gabriela Guțu (Ivanov) and Elena Daniela Radu
MA Students MTTLC,University of Bucharest