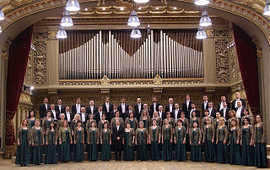 Mahler - at the opening of the Season 2010-2011 of the G. Enescu Philharmonic
Monday, 27 September 2010 , ora 9.52

Almost 115 years since the Symphony No. 2 Requiem by Gustav Mahler was listened to for the first time worldwide under the composer's baton; it opened on Thursday, September 23rd 2010 on the new stage of the Bucharest Philharmonic.
Under the dome of the Romanian Athenaeum soprano Mariana Colpoș and mezzo-soprano Sidonia Nica were soloists accompanied by the Choir trained by Iosif Ion Prunner and institution Orchestra. Jin Wang was conducting, a conductor already familiar with the Romanian public and who will cooperate during the 2010-2011 season with George Enescu Philharmonic.
Symphony No. 2 by Mahler - a well-known score, but difficult and ample, highlighted the orchestra's and the conductor's capacity to outline its multiple sound plans, dynamic diversity, quality of tone and agogics. Mariana Colpoș and Sidonia Nica brought a plus of refinement with their beautiful voices - the latter impressed by her charming presence and a warm and powerful timbre that fit wonderfully with the profoundness of sonorities specific to Mahler's music. Therefore, it was a concert a large public enjoyed.
Larisa Clempuș
Translated by Zenovia Popa and Andreea Velicu
MA students, MTTLC, Bucharest University