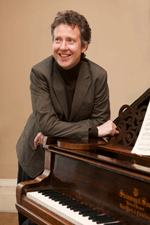 Pianist Sam Haywood at the Romanian Athenaeum
Tuesday, 28 September 2010 , ora 10.03

After performing in May with Joshua Bell, pianist Sam Haywood has returned to the stage of the Romanian Athenaeum on the evening of September 26, 2010 during the Cruciada culturii (Culture Crusade) Campaign. The program of the evening entitled Chopin trăiește? (Chopin Alive?) included Sam Haywood's favourite works written by the Polish Composer: Barcarolle in F-sharp Major Op. 60, Ballads no. 2 and 4, first two Scherzi, Nocturne in D-flat Major Op.27 no.2, or Polonaise no. 6 in A-flat Major, The Heroic. The concert also included Sam Haywood's rendition of Romance Part II of Chopin's Piano Concerto in E minor and two other works whose composers are less known, but who are connected with Chopin's personality in one way or another: Charles-Valentin Alkan and John Field.
From the very beginning of Alkan's Barcarolle in G minor, the British pianist managed to capture everyone's attention through sensitivity, elegant touch and phrasing, calm and ease of interpretation. After that, he performed Chopin's Barcarolle in F-sharp Major, the two Ballads and the two Scherzi, managing to surprise through perfect piano techniques, or through numerous timbre colours that Sam Haywood likes to emphasise by means of contrast or unnoticeable changes of dynamics, regardless of the instrumental register. Without exaggerating Chopin's romanticism, the pianist reflects on the melancholy and the hope of the artist's music without excluding his own performing personality.
In his rendition of Chopin's Piano Concerto in E minor, Part II, Sam Haywood focused on the piano part and the orchestra's voices in an elegant synthesis of sensitivity and simplicity. After his tribute to John Field, the creator of the Nocturne, the pianist also performed a Nocturne by Chopin, The Heroic a glamorous and noble performance.
The clarity of the sound, the emphasis of the voices and the parallel settings, the skilfulness of the decorative technique, and of the rubato tempo, or the beauty of the pauses are just some of the attempts to describe the performance of this complex and complete artist, a real piano poet, just like Chopin.
Andreea Chiselev
Translated by Andra Stroe and Andreea Velicu
MA Students, MTTLC, Bucharest University