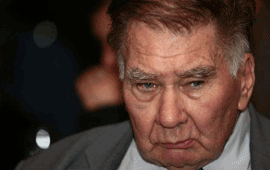 The Bucharest premiere of Orestia II – Choephorele by Aurel Stroe
Thursday, 7 October 2010 , ora 10.20

Choephorele, the second part of the Orestia trilogy by Aurel Stroe, was staged for the first time in Bucharest on October 5th, 2010, three days after the national premiere in Busteni. The performance was presented at the National Music School and was preceeded by the screening of the documentary Aurel Stroe by Bernard Cavanna and Laurence Pietrzak. The documentary-film, from 2000, was a homage to the above mentioned composer and it presented not only biographical data or details of the maestro's compositional thinking, but also the social context of the period.
The film was followed by the performace of the 'Banatul' Philharmonic of Timisoara, directed by Ioana-Sarah Stoianov and conducted by Radu Popa. The middle part of Orestia, inspired by Aeschylus, is described by the composer as the 'history of a gradual rupture of an initially unitary musical line, under the pressure exerted by the tragic text on it'. Undoubtedly, the tragedy is turned into a work which resembles a baroque opera from the first half of the 17th century, yet so modern and complex in its composition. From the point of view of the vocal and instrumental achievements, the score is a repetitive but enthralling piece through the dramatic aspects of the text and special instrumental effects.
The soloists, Jean-Kristof Bouton, Antonela Bîrnat, Mihaela Mladin Ișpan or Iulian Ioan Iosip, proved a thorough vocal preparation of the score and resourceful expressiveness adapted to the dramatic requirements of the opera. The instrumental ensemble was also an exceptional one, performed with violin, viola, cello, harpsichord, organ and percussion while the trombone took over the part of the choryphaeus, as an intrumental character, and that of the final choir in the end of the tragedy (with Mircea Neamț as a soloist). The director, Ioana Sarah Stoianov and scenographer, Albert Alpar, tried to follow closely the composer's intentions through a simplicity which aimed at bringing us closer to the authentic moment of the action in the respective tragedy. We hope that the success of the performance will result in an integral staging of Aurel Stroe's trilogy. For now, Orestia II will be played at the Cluj Musical Autumn Festival and on tour, in Germany, Switzerland and France.
Andreea Chiselev
Translated by Sînziana Mihalache and Elena Daniela Radu
MA students, MTTLC, Bucharest University