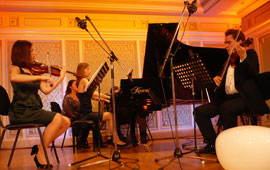 Opening of the Tuesday Night Season
Wednesday, 6 October 2010 , ora 9.06

The Small Hall of the Romanian Athenaeum hosted on Tuesday, October 5
th
, 2010, the Opening of the Season which was dedicated to the young talented artists. Thus, at the first concert of the Tuesday Night Season, we had the opportunity to listen to a chamber concert, that gathered the young musicians Mihai Cocea - viola, Ksenija Aleksandra Vukadinovic – piano and Raluca Stratulat - violin. The programme included the
Sonata for viola and piano
by Nikolai Roslavets,
Dumka for Violin, Viola and Piano
by Rebecca Clarke,
There Is a
Willow Grows Aslant
a
Brook
by Frank Bridge,
Concert Piece by
George Enescu,
Two
by Victor Nicoara and Phantasy in F major for Viola and Piano by York Bowen.
Finalist of the "Eurovision Young Musicians" - in 2008 and third prize winner at the 'Watson Forbes' International Viola Competition, violist, Mihai Cocea is Paul Silverthorne`s student at the Royal Academy of Music in London.
He was born in Bucharest in 1990 and graduated George Enescu Music High school in Dumitru Ene`s class. Mihai Cocea won numerous national and international awards, including the Grand Prize and Best Interpretation of a contemporary work at Icon Contemporary Arts in Breaza in 2005, and the Second prize at Delius Competition – London in 2008.
He participated in numerous master classes, led by Yuri Basmet, Ladislau Csendes, Marius Ungureanu, Yuval Gotlibovich, Bruno Giuranna, Lawrence Power, Razvan Popovici, Endre Guran, Tatiana Masurenco, Jerzy Kosmala, Garfiel Jackson.
He also participated in international projects such as Summer Camp Young Violist in Wroclaw, Poland, Melting Potes Musik, Nimes, France, Sampling Bukarest, Vienna Austria, Intercultural Exchange, Beijing China, Sermoneta Pontino Festival, Italy, where he had the unique opportunity to play in the same orchestra with his mentor Bruno Giuranna and three of the most famous soloists in Europe: Mariana Sirbu, Rocco Filippini and Franco Petrarchi with whom he performed a sextet by Mendelssohn. Another cultural project, that emphasized his development, was his taking part in Sonoro - International Chamber Music Festival, which offered him the chance to play in several concerts together with great musicians of the new generation such as Alexander Sitkovetski, Diana Ketler, Razvan Popovici, David Cohe. These concerts were broadcast by Radio Romania, and Romanian Television and also BBC 3 channel.
Mihai Cocea was himself violist of numerous orchestras, such as the Youth Orchestra of Wroclaw, Poland - 2005, CEY-Youth Orchestra - 2006-2007, EUYO - Youth Orchestra – 2008 and National Youth Orchestra - Conductor Cristian Mandeal - 2009. The quartet, whose member Mihai Cocea was, participated in various concerts, which were organized by Princess Margarita of Romania, and also in the City under the City programme initiated by Mask Theatre. As soloist, Michael played in his own recitals at the Șuțu Palace, Enescu Museum and the Romanian Athenaeum.
Mihai Cocea plays a Salomon France 1780 viola that was borrowed by the Royal Academy of Music in London.
Violonist, Raluca Stratulat, graduated from George Enescu Music High school in 1998 and then, the National University of Music in Bucharest from the class of the University Professor, Nicolae Bilciurescu, in 2003; furthermore, in 2005 she received an MA Diploma from Department of chamber music. Since 2005, she has been a doctoral candidate at the National University of Music, guided by University Professor Dr. Serban Dimitrie Soreanu and University Professor Dr. Ladislau Csendes.
The young violonist attended various art master classes, directed by the following teachers: Gerhard Hamann, Alexandru Gavrilovici, Șerban Lupu, Monte Belknap, Ladislau Csendes, Wolfgang Klos. She won numerous awards including: II nd Prize at the George Georgescu Contest - Tulcea, III rd Prize at the International Chamber Music Competition - Thessaloniki, Greece, II nd prize at the Mozart Contest- classic duo, First Prize in Interpretation Contest within the Hungarian Music Festival, III rd edition of the Hungarian Cultural Centre, Bucharest.
Raluca Stratulat held recitals and concerts at the George Enescu Museum, Șuțu Palace, Writers` House - Bucharest, Hungarian Center - Brussels - Belgium, Talia Hall at the Sibiu Philharmonic, Gala of the Young Winners - Bow, Cotroceni Palace.
Young pianist Ksenija Aleksandra Vukadinovic, who was born in Bucharest on July 28th, 1992, is in the twelfth grade at the George Enescu Music High school, under the guidance of her teacher, Elisa Bârzescu. Throughout her artistic activity she won Grand Prize of the Category Excellence I at Concours Musical de France (Paris, 2005), Grand Prize at the "Sigismund Toduta" International Competition Category (Deva, 2004), First Prize at the "Carl Filtsch" International Competition (Sibiu, 2005), First Prize at the "Vojislav Vuèkoviæ" International Competition (Belgrade, 2006), Excellence Award in the "Pro Piano" International Competition (Bucharest, 2003-2006), First Prize at the National Music Olympiad (2004, 2006, 2007, 2009), and so on…
She attended various master classes with Csiky Boldiszar and Professor Walter Krafft (Targu Mures, 2003), Professor Fabrizio Menin (Bucharest, 2008), Professor Elisso Virsaladze (Sermoneta, 2010). She had recitals at the Italian Cultural Institute (Bucharest, 2008, 2010), Nottara Museum (Bucharest, 2007) and Șuțu Palace (Bucharest, 2005). In the Great Hall of the Romanian Athenaeum, she played the Piano Concerto in F minor BWV 1056 by Johann Sebastian Bach under the baton of the conductor Bogdan Vodă, and being accompanied by the Lyceum Strings orchestra of the George Enescu Music High School (Bucharest, 2007). She appeared in the programmes of some major festivals in Romania: Youth and Music (Bucharest, 2008) and in the George Enescu Festival Square (Bucharest, 2004, 2007). She could also be heard in the program Musicians of today, Musicians of tomorrow, which was broadcast live on Radio Romania Cultural. She also appeared as a soloist (Bucharest, 2004-2007, 2010) and in duo with Michael Cocea in 2008 and 2009.
Obviously, we have had the opportunity before to see and hear young performers who made a good impression in terms of technical and interpretative point of view. However, these three musicians, who performed on the stage of the Small Hall of the Romanian Athenaeum, on the evening of October 5th, left the impression that they 'overflowed' musicality - if we may say so. The precise interpretation and mature understanding of the musical discourse, succeeded in providing an exciting evening to the audience attending the performance.
Even if the selected programme was quite difficult, thunderous applause and shouts of "bravo" made the young instrumentalists demonstrate once again, that they still had strength and resources to offer an encore: The Tear by Modest Mussorgsky. Despite the unfavorable weather and the harsh autumn day, this new season's opening night was a very warm welcome.
Interview by Adriana Nițu
Translated by Alinda-Gabriela Guțu (Ivanov) and Elena Daniela Radu
MA Students, MTTLC, University of Bucharest