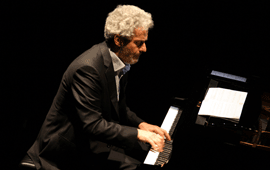 Nicola Piovani, winner of the Oscar for Best Original Dramatic Score, live at Radio Hall!
Tuesday, 12 October 2010 , ora 12.56

The La vita e… cinema tour brought Italian composer and pianist Nicola Piovani to Bucharest on Saturday, October 9th 2010, at the final act of the Romania International Film Festival Ro-IFF. He became world famous for the La vita e bella soundtrack, a wonderful movie by Roberto Begnini, but Nicola Piovani has impressive past achievements as well, most of them movie-related – in the past four decades he has signed over 130 film scores, amongst them: Federico Fellini's last three movies, but also Nae Caranfil's 'Dolce far niente'.
Nicola Piovani's playlist included some of his well known movie themes, accompanied by his much younger band mates of the Nicola Piovani Quintet, an assembly of multitalented players, which comes only natural for a small ensemble that should paint a colourful sound canvas. Marina Cesare plays the clarinet, the saxophone and the flute, Pasquale Filastó – cello and guitar, Cristian Marini - percussion and accordion, and Andreea Avena – just the contrabass!
In Bucharest, Nicola Piovani even gave us an interview. Here's a fragment of the dialogue, and we will show the rest of it in a future broadcast of Successful music stories:

<< I think Edison was the one who said that art is 5% inspiration and 95% perspiration, as in work. This is especially true when it comes to film scores, where you, indeed, start creating music from a poetic vision, an intuition, a form beyond reason.
After that, an intense artisan work follows, and that also depends on how much you've studied your predecessors. It's important to know all kinds of montage techniques, from Eisenstein to Orson Wells, you must study how Chaplin used music, Visconti too, study Hitchcock and then study different composing techniques.
Musicians who write film scores can't have just one kind of speech, because one movie may need a symphonic adagio, but also a samba or a rumba or even an avant-garde type of music like jazz! The cinema incorporates all kinds of languages and that's why you must manage them categorically and rightfully.>>
ªtefan Costache
Translated by Tudor Ciocanel and Andreea Velicu
MA Students, MTTLC, Bucharest University