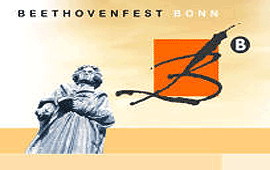 'Open the gates: utopia and freedom of music'
Thursday, 14 October 2010 , ora 11.27

We are restating the principles: opening, in the sense of surpassing the barriers of conventionalism, the utopian ideal changed into a real fact, freedom from the social and aesthetic constraints. This is the motto from which this year's organizers of the Beethoven Festival in Bonn started thinking of a system as complex as possible, whose artistic elements, guests and selected musical pieces, were not the consequence of chance.
Beethoven was under the sign of the utopia when he composed the Ninth Symphony, a triumph of humanity united in joy. This year's edition of the festival could not have pass this work, and so the audience were able to listen to a less known version, orchestrated by Gustav Mahler – whose 150th anniversary was celebrated – and whose own sonorous aspirations were fulfilled by this new version. This interpretation was marked by the German conductor and composer, Peter Ruzicka, who participated in the Festival with the statute of "composer and artist in residence". In this capacity, he presented his own composition – Ins Offene... – Into the open, inspired by Friedrich Hölderlin's poem called Der Gang aufs Land (The Walk to the Countryside), whose first verse has become the motto of the Festival.
The edition's motto may as well represent a concise description of the project developed by Dr. José Antonio Abreu for thirty-five years regarding the combination between the social services and musical education with the purpose of offering an alternative to the children who were struggling to survive. His vision, considered an utopia when first uttered, has come to life. Classical music has now become part of the social system in Venezuela and the 350.000 children and young people have been organized in 180 nuclei all over the country. Dr. José Antonio Abreu accepted to coordinate this year's Beethoven Festival in Bonn and invited the Teresa Carreño Youth Orchestra, whose members are between twelve and twenty-one years old and who performed their first concert outside South America.
There were so many debuts at this year's festival. I would like to mention the one of the King's Singers famous British quintet that, in order to honour the motto of the festival, made up a programme inspired by Thomas More, the author of Utopia, a literary work written in 1516. He described the society of the future, a hierarchical, pacifist, democratic society focused on education, either communist or imperialist. Another important debut was that of cellist, Jan Vogler, who played with The Knights - an ensemble from New York recently set up - a concert whose title discloses it all: "Tango, klezmer, walz and rock". The series of debuts continues with the following important names: conductor Sir Colin Davis, cellist Daniel Müller Schott, pianists Gabriela Montero and Piotr Anderszewski, violonists Serghei Kaciatrian and Veronika Eberle, mezzo – soprano Angelika Kirschlager.
Bonn is Beethoven's hometown. This is where the one who was to change equally the course of the history of music and that of the musical destiny of his town over the centuries, was born. The township will not forget about Robert Schumann either, the one who gave his last breath in an institution in Endenich about 150 years ago and even more so because 200 years since his birth are being celebrated in all the musical European institutions. Neither the Festival organisers forgot about him; quite on the contrary. Schumann's creation was balanced perfectly with Beethoven's creation in a dialogue of the genres. The same chamber orchestras interpreted trios or sonatas for violin and piano that belonged to both composers. Analytical auditions or commented concerts took place in a different environment.
40.500 tickets, 67 events, 25 halls in Bonn and in the neighbourhood in thirty days is the summary represented by figures, of one of the most important European festivals that keep trying to overcome geographical borders, as Ilona Schmiel, the manager of the event, told us in the interview she gave us:
«We would like to strengthen our partnership with Venezuela and we hope to go to Brazil in 2013 in order to organize a Satellite Festival in São Paulo. Next year we will go to a region we have never been to: we are planning to reach as far as Iraq. It is a new challenge to us. There is a national youth orchestra there, whose rehearsals take place in very difficult conditions, but whose activity continues its existence as an ensemble, as well.
I think that our way of thinking, politically speaking, will have to sound like this: when everyone tells you that you will not be able to reach there, as it has already happened with Brazil and Venezuela, you will need to have exactly the opposite reaction by trying to accomplish it, to get there! Speaking of international collaborations, we can mention the projects with Vietnam. We went to Hanoi again where we have given two concerts this year. We invited their Vietnamese youth orchestra last year. This does not mean much and it does not make it into a satellite festival, but it shows our preoccupation with this partnership.»
Beethoven Halle and the Chamber Music Hall of Beethoven House are the places where we could listen to an exceptional concert performed by the Academy of St. Martin in the Fields, conducted by Sir Neville Marriner and a recital of the same quality of trio Isabelle Faust, Alexander Melnikov and Jean Guihen Queyras. The artists we interview offered us many pleasant surprises.
If you would like to know how much of the descent of mezzo-soprano, Angelika Kirschlager, is Austrian and how much ...Romanian… , what she thinks about Angela Gheorghiu, Ioan Holender and about her Romanian colleagues at the Vienna State Opera, if you would like to know how Sir Neville Marrier and... George Enescu met, I am inviting you to listen to the new series of Successful Music Stories, on Radio Romania Music every Sunday beginning from 10:30.
Monica Isãcescu
Translated by Elena Daniela Radu and Andreea Velicu
MA students, MTTLC, Bucharest University