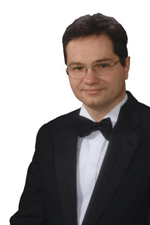 Toma Popovici in a Chopin recital
Monday, 18 October 2010 , ora 9.04

The small hall of the Romanian Athenaeum proved to be cramped on October 12th 2010 at the pianist Toma Popovici's recital. This is a gladdening situation, which contradicts the prejudice that there might not be any interest in musical culture or that the young audience might prefer only facile genres.
What are the premises of such an attraction? First of all, performer's honours list and secondly, the program composed by exclusively Frédéric Chopin's works: Ballad no. 4 op. 52 in F minor, Sonata no. 2 op. 35 in B-flat minor and Sonata no. 3 op. 58 in B minor. It was a tribute to the great romantic, brought by the organizers of Tuesday evening's Season and the Polish Cultural Institute.
Toma Popovici has a personality shaped by numerous qualities related to musicality and to an advanced technique. To his thirty-five years, he has an extensive experience in Europe and USA as a soloist and member of the Tancredi trio.
His studies with personalities like Dana Borºan (UNMB), Gaby Casadesus (Fontainebleau), Horia Mihail, Victor Rosembaum (Boston) have been productive; he has won major awards and also invitations to major festivals: George Enescu (1998), Kneisel Hall Chamber Music (2001, 2002), Rockport Chamber Music (2007).
There are few pianists who dare to join on a single display two Chopin sonatas. The ambitions of such a repertoire not convenient at all, reflect a demonstrating and demanding attitude from all points of view.
Since the beginning Toma Popovici distinguished himself by highlighting latent polyphonies specific to ballad no. 4 and by combining the dramatic sounds of Second Sonata. His inventiveness, however, was hindered by an excessive emotiveness with many impurities during the musical texts' performing. The only exception was the Funeral March - played with convincing clarity.
The quality of the recital has risen considerably in the second part. I have watched a pianist that seemed to have transformed, having a suggestive perlatura that juggled freely with the subtle accents, self-controlled and highly expressive. Therefore, Toma Popovici is still a performer of pleasant surprises in which we fully believe.
Monica Cengher
Translated by Oana Marina Siliºte and Andreea Velicu
MA Students, MTTLC, Bucharest University