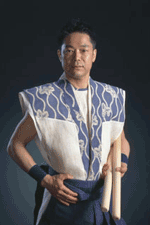 Percussionist Eitetsu Hayashi - a success on the stage of the Palace Hall
Thursday, 21 October 2010 , ora 11.01

A new musical event performed at the Palace Hall reunited an enthusiast and numerous enough audience on Wednesday, October 20th, 2010. Japanese traditional music reached right in the concert hall from the space of the religious temples of the country of Sunrise, due to Eitetsu Hayashi's contribution, one of the most appreciated current Japanese percussionists. The concert, held with the orchestra of the Bucharest Philharmonic, conducted by Horia Andreescu, was divided in two parts, bringing forth representative pieces of Romanian musical culture and Japanese, respectively, and creating an enthralling dialogue.
The musical evening began in tune with the musical notes of the Romanian Rhapsody by George Enescu - interpreted by the members of the orchestra with a sustained tempo that enraptured the audience. The modal sonorities characteristic for XVIIth century Transylvanian Romanian music outlined the medieval and majestic atmosphere - in the fragments selected from the musical work Codex Caioni by Doru Popovici. The programme of the first part of the evening continued with a series of representative musical pieces: Hora Staccato by Grigoraș Dinicu, a few fragments from the musical suite of the film Michael the Brave by Tiberiu Olah, Ciprian Porumbescu's well-known Ballad for Violin and Orchestra - whose soloist was Simina Croitoru - and the Six Romanian Folk Dances byBelá Bartók.
The climax of the Palace Hall concert was the presence of percussionist Eitetsu Hayashi, who - by means of some Japanese contemporary creations, among which one was his own composition - merged the drum sonorities traditional to his country, called taiko, and the intonations characteristic to his own voice with uncommon orchestral effects in an ample musical discourse which did not lack contrast, dynamism and sensitivity. The concert was a real success that will probably be re - echoed two days later in Eitetsu Hayashi's concert at Sibiu.
Alexandra Cebuc
Translated by Elena Daniela Radu and Valentina Tache
MA students, MTTLC, Bucharest University