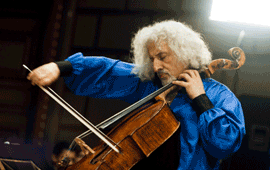 Mischa Maisky: the world's greatest cellist, Romanian citizen for a night
Tuesday, 2 November 2010 , ora 11.40

Will you accept the invitation, if you were invited to perform together in Romania?
Lili: Absolutely.
Mischa: I think I haven't answered to the e-mail inviting me to perform a recital in Bucharest yet.
Lili: I'd love to come to Romania.
Mischa: Romania is a very special place.

Why are you saying that?
Mischa: Oh, it is very special. In fact, each place is special in its own way. There's something about Romania...; however, I think you know best.


This could be the prologue to the recital we listened to at the Romanian Athenaeum yesterday evening: cellist Mischa Maiski together with his daughter, pianist Lili Maiski. The interview at the beginning was taken in Dresden on 24th May, 2010, when I also listened to the two artists in a recital, held under the auspices of Russia, the theme of the Dresden Festival.
For the recital in Bucharest on October 27th, organized by the Dream Agency as part of the Culture Crusade events, Misha Maiski chose a programme rather Latin in spirit, when we come to think of the second part of the recital whose works were signed by Spanish composers: Granados, Albeniz, Cassado and Manuel de Falla.
The first part explored the French-German space: Beethoven's Variations on a theme from Mozart's «The Magic Flute» Robert Schumann's , Fantasiestuke and Claude Debussy's Sonata.
Mischa Maiski has once again demonstrated his high class during the Bucharest recital. The sounds of his celllo changed into a real human voice, which can be so rarely listened to and so difficult to achieve. His twenty-three old daughter, Lili Maiski, proved to be an equally high class musical partner. She was very considerate towards the music and very involved. The experience she had gained by performing alongside her father and other elite interpreters with which she collaborated, was highly important for her career.
Last but not least, I would still like to say that Mischa Maiski, who declares himself to be a citizen of the world, reverberates like the music of the civilization he was created by: the two encores from the Russian repertoire were an eloquent and vibrant demonstration that accomplished this memorable recital organized, as far as I know, due to a huge effort at a time when more and more people wonder whether they will be willing or able to support cultural events.
Cristina Comandașu
Translated by Elena Daniela Radu and Valentina Tache
MA students, MTTLC, Bucharest University