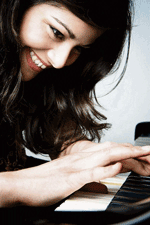 Mihaela Ursuleasa at Cité de la Musique
Tuesday, 2 November 2010 , ora 10.16

During the strike season in Paris, having a full concerto hall is close to a miracle. But the programme of the Paris Orchestra presented on Friday October 29th 2010 at Cité de la Musique was worth the effort.
It consisted of pieces by Strauss and Mozart, conducted by one of the greatest talents nowadays: Andris Nelsons, 31, who was remarkable at Bayreuth this summer. The soloist of the evening, Mihaela Ursuleasa is part of the few piano players that impressed the Parisian press in quite a while.
The Paris Orchestra, which was even conducted by Karajan in its beginnings, had a lot of spunk. The full complex sound of the chords was very useful in Strauss, especially in the first work that was made just for them, but until the conductor managed to unite them, the piece was half way through. In fact, the song felt like a preparation for the upcoming Mozart. Mihaela Ursuleasa, accompanied tastefully by a well conducted and expressive ensemble, had reinvented the Piano Concerto No.7 by Mozart. Her character is a little eccentric but sincere. She had helped us understand it better intonating the songs while playing, accentuating and boosting the rhythm. Having a brilliant intelligence and a childish curiosity, she lead us into a world full of authentic feelings. Mozart was a man and he needs interpreters to give him the all three dimensions. Together with the conductor, the piano player dared to create a truly special portrait.
The symphonic poem Thus spoke Zarathustra by Strauss, was a success as it was Mozart, due to the young conductor's attention for details, the harmony of the sound and the phenomenal energy he gave the orchestra. This young..and restless had lit the passion in the Parisians' hearts.
Alexandra Diaconu
Translated by Monica Cristina Țone and Andreea Velicu
MA Student, MTTLC, Bucharest University