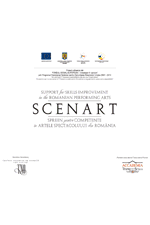 The SCENART project - results after one year of activity
Tuesday, 9 November 2010 , ora 8.48

SCENART is the title of an original project which is underway at the Ion Dacian National Operetta Theatre. The project was initiated for the first time in our country in order to improve the competences of the professionals who work in the art of entertainment. This 'pilot-activity', created in partnership with the Accademia Teatro alla Scala in Milan, started in October 2009 and was developed in two stages, during a period of three years.
These were only a few of the benchmarks of the press conference held in the Hall of the Ion Dacian National Operetta Theatre on Friday, November 5th 2010, after one year of SCENART. Among the people who were present at this event - besides the journalists and the persons who took part in the eleven specializations in the artistic, technical and administrative domains - we can mention Răzvan-Ioan Dincă, the Director of the National Operetta Theatre, Umberto Bellodi from the Scala Theatre in Milan and the directors of two associate institutions: George Ivașcu, representing the Metropolis Theatre and György Csaba, the Director of the National Theatre in Târgu-Mureș.
The courses held during the SCENART project will be certified. Besides the above-mentioned theatres, the Opera in Brașov and the Oleg Danovski National Opera and Ballet Theatre in Constanța have also benefited from them. The initiative continues and probably by the end of this so-called 'forming exercise' the slogan 'Knowledge for gaining acknowledgment' imagined by actor George Ivașcu for the SCENART project will become reality.
Alexandra Cebuc
Translated by Cristina Cărămidă and Andreea Velicu
MTTLC, Bucharest University