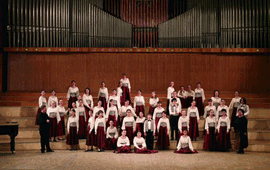 The Children Radio Choir - Anniversary Edition
Monday, 15 November 2010 , ora 9.04

The Children Radio Choir holds a special place in the Romanian music industry. If we were to look for connections between the concert hall and the fairytale Youth Without Aging and Life Without Death, one of the most representative myth in the Romanian folklore culture, we would observe that the ensemble guided by the conductor Voicu Popescu is the group with the freshest face, although, on November 14th, at Radio Hall, it had celebrated 65 years of existence. The musical festivity - presented by Sorina Goia - reunited, on stage, established ensembles from which certain members have started their musical career inside The Children Radio Choir: The Sound Choir, The Prelude Choir, Madrigal National Chamber Choirand The Academic Radio Choir.
The musical programme of the celebrated ensemble presented works belonging to various styles: famous opposites from the international chorus - such as The Butterfly and The Flower by Gabriel Faurè, Romanian compositions seldom performed in a concert hall - such as the work Games by Cornelia Tăutu, but also selections from complex works belonging to the vocal-symphonic genre, transformed for à cappella- such as Stabat Mater by Giovanni Battista Pergolesi.
We have admired the Madrigal National Chamber Choir's technical precision, conducted by Bogdan Andronache- within the Renaissance compositions based on intensely prolific musical speech; the introvert feeling through which the members of the The Prelude Choir conducted by Voicu Enăchescu have performed the work called Blue Flower by Vasile Spătărelu; that perpetuum mobile called Sicus locutus est by Johann Sebastian Bach - performed by The Sound Choir, conducted by de Voicu Popescu, or the praying-like atmosphere of Ave Maria by Franz Schubert, performed by the Academic Radio Choir, conducted by Dan Mihai Goia. But the children's pure voice, the rhythmic expression, the surprising vocal effects and the asymmetric rhythm performed with an explosive enthusiasm - the qualities through which the 65-year old ensemble impressed the audience once again - represents the hallmark of childhood.
Alexandra Cebuc
Translated by Cristina Mihaela Sandu and Andreea Velicu
MA students, MTTLC, Bucharest University