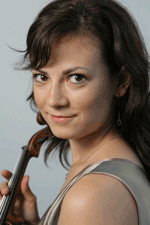 Nora Hapca Recital
Wednesday, 17 November 2010 , ora 10.44

The Tuesday evening concert at the Romanian Athenaeum on November 16th, 2010, gave us the occasion to meet violinist Nora Hapca again, currently a graduate student at the Hochschule fuer Musik in Cologne. There, she studies with the reputed teacher Mihaela Martin, but within her formation an important role was played by teachers as famous as Cornelia Bronzetti (National University of Music in Bucharest) and as prestigious as Mihaela Tomescu ("George Enescu" Music High School).
The violinist aged 24 and pianist Sergej Filioglo presented a comprehensive programme, comprehensive in scope and demanding in artistic achievement: Sonata no. 4 in A minor, Op.23 by Ludwig van Beethoven, Sonata by Claude Debussy, Sonata No.2 in F minor, Op.6 by George Enescu and Rhapsody "Tzigane" by Maurice Ravel.
The qualities of the young performer focused primarily on sound velocity, carefully calibrated in a wide range of shades and colors. Many beautiful and successful moments followed one after another while completing these masterpieces, thanks to a special lucidity which Nora Hapca is endowed with. Perhaps she will succeed to break the shackles of musical construction of the text and move into the artistic field during her next interpretative stage. By listening to the recital, one can realize that this perspective is not far.
Impeccable in the position of master of chamber music, the pianist Sergej Filioglo, born in Moldova in 1976, proved a deeply knowledgeable and experienced interpreter of the three sonatas in the programmme. Intuition, intelligence and talent that he is so generously endowed with, significantly attracted our interest.
Monica Cengher
Translated by Elena-Loredana Pastrav and Elena Daniela Radu
MA students, MTTLC, Bucharest University