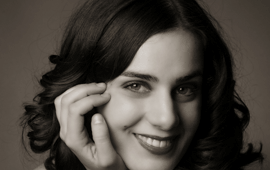 On the eve of the winter holidays; from Swing to Bossa Nova…
Friday, 3 December 2010 , ora 11.03

…that was the title of the jazz music performance held at the Small Hall of the Romanian Athenaeum on the evening of November 30
th
, 2010. The celebrating atmosphere was created by
Irina Sârbu -
voice,
Puiu Pascu -
piano
, Alin Constanțiu -
clarinet,
Ciprian Parghel -
bass and
Tudor Parghel -
percussion. Trumpet player
Laurențiu Moise
who was the invited guest, succeeded to integrate perfectly with the group of the five virtuosos.
The programme which was especially interesting - American, South-American and European jazz - fascinated the large audience who had come to listen to good music. What a difference a day made, Lady is a tramp, A Felicidade, Sweet Georgia Brown, Que reste-t-il de nos amours, Tristeza are only some of the musical parts that made the audience live the jazz music with great joy .
Irina Sârbu, with her charming naturalness, sang the pieces with a personal touch helped by the magnificent Puiu Pascu, the matchless virtuoso Alin Constanțiu and the tireless Parghel brothers accompanied by Laurențiu Moise for several measures.
The spirit of the winter holidays was announced by several jazz jewels, such as: Let it snow, Santa Claus is coming to town, White Christmas, Jingle Bells, Feliz Navidad, played in crescendo, a fact that caused a surprising event: Puiu Pascu swapped roles with Tudor Parghel, both proving to be challenging and inspired virtuosos, to the delight of the audience who kept shouting "encore"! As the surprises seemed to never end, Irina Sârbu sang a wonderful Romanian carol in the end, also playing the piano and thus completing gracefully the magic atmosphere of the evening…
An evening that should have continued…
Adriana Nițu
Translated by Elena Daniela Radu and Andreea Velicu
MA students, MTTLC, Bucharest University