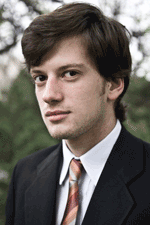 Winner of the National Piano Contest within The Lipatti Days Mihai Ritivoiu - invited to Switzerland to celebrate Lipatti
Friday, 3 December 2010 , ora 11.09

On December 2nd, 2010, a series of events dedicated to the famous musician was organized in commemoration of the 60th anniversary since the great pianist Dinu Lipatti passed away. Larisa Clempuș attended the events and presents the Romanian readers a chronicle.
*
In Switzerland, the country where Dinu Lipatti spent his last years, his memory lives on. On Thursday, December 2nd, 2010, in commemoration of the 60th anniversary since he passed into eternal life, important Romanian cultural figures from Switzerland, Her Excellency Ambassador Ionel Nicu Sava, two Orthodox priests who celebrated the memorial service and other representatives within the embassy visited his grave.
It was a moment of extreme emotions, intensified all the more by the pleasant surprise to be received at the entrance into the cemetery Chêne-Bourg, where the body of the great Romanian pianist rests in peace, by a Swiss gentleman from Geneve, Remy Chapat, who led us to the grave, which was covered in snow and flowers, telling us, visibly touched, how he remembered the day when the passing away of the musician was announced on the radio and that he had been coming to the grave of Dinu Lipatti to light a candle and pray on every December 2nd, for the past 60 years. We said our goodbyes to that ardent admirer of the Romanian composer and pianist, thinking that Lipatti probably had been loved in Switzerland just as much as he had in Romania, and we headed for Lausanne, where the Romanian Embassy organized a commemorative recital.
Before it started, the public could admire a series of interesting documents, letters, chronicles, photographs, all included in an exhibition arranged by The George Enescu National Museum in memory of Dinu Lipatti. The musical evening started with the performance of Mihai Ritivoiu, the talented pianist who won the National Piano Contest organized by Radio Romania Music within The Lipatti Days and was invited, therefore, to play this recital at École hôtelière de Lausanne. Mihai Ritivoiu captivated the audience with his sensibility and expressive power as he did during the contest by playing Prelude and Fugue in B flat minor by Johann Sebastian Bach, Transcendental Etude in F minor by Franz Liszt, Ballade No. 1 by Frederic Chopin and Pavane and Bourée from Suite No. 2, Op. 10 by George Enescu.
The large and extremely enthusiastic audience equally appreciated the interpretation and the flawless technique of the pianist. In the second part, the Romanian pianist settled in Switzerland, Mădălina Slav, and her husband, Russian violinist Alexander Scherbakov, played scores of Enescu and Ravel and the beautiful Nocturne for piano solo in F sharp minor by Dinu Lipatti.
The chronicle ends with the assertions that the events were very well organized by the Romanian Embassy, and they reached their purpose, namely to bring into light, in Switzerland, the character and the work of the greatest Romanian pianist, Dinu Lipatti.
Larisa Clempuș
Translated by Raluca Mizdrea and Andreea Velicu
MA Students, MTTLC, Bucharest University