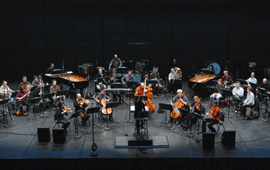 Soloists of the Intercontemporain Ensemble in concert at Centre Pompidou in Paris
Monday, 6 December 2010 , ora 9.39

The Intercontemporain Ensemble is a reference mark in modern and contemporary music performance. Founded by Pierre Boulez in 1976, it is currently managed by Music Director Susanna Mälkki and continues to enlarge its repertoire by first performances and to explore the most various instrumental techniques in projects which, often, are syncretistic.
Each performance of the Ensemble Intercontemporain is an event. The same goes for December 3rd, 2010, when the ensemble's soloists performed six pieces of Sequenza cycle by Luciano Berio, perfect for admiring these artists of classic school in a demonstration of virtuosity, passion and understanding of new music.
By writing these scores, Luciano Berio wanted to make us see another side of the instruments too, in an attempt to break down the preconceptions cumulated over centuries. It is no easy task accepting the flute as a polyphonic instrument, the violin as support for the discourse of a harpsichord, toccata style, the aggressive nature of… the harp or the cello turned into a percussion instrument. These are solid reasons to appreciate the openness of the soloists Emmanuelle Ophèle - flute, Diego Tosi, laureate violinist of the International Competitions: Paganini in Genoa and Tchaikovsky in Moscow, Frédérique Cambreling - harp, Alain Damiens, to whom Elliott Carter dedicated the Clarinet Concerto, Benny Sluchin - trombone player, Doctor of Mathematics, IRCAM researcher and teacher of musical notation at The Paris Conservatoire, and, last but not least, Pierre Strauch - cellist and composer.
In Paris, new music sounds good also thanks to the Intercontemporain Ensemble which concluded through its performance the concerts series proposed by the Centre Georges Pompidou in 2010.
Monica Isãcescu
(With the support of the Romanian Cultural Institute in Paris)
Translated by Mirela Oprina and Andreea Velicu
MA Students, MTTLC, Bucharest University