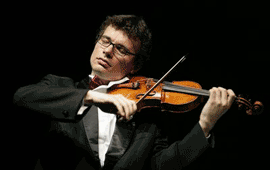 Alexandru Tomescu - charity concert in Paris
Tuesday, 14 December 2010 , ora 9.45

I was quite surprised to find out that the violinist Alexandru Tomescu is going to hold a recital in Paris, on December 13th, 2010. That was because the tours that he organises in Romania are highly publicized, while the press knew nothing about this concert in Paris.
Alexandru Tomescu's appearance at the Basilica of Saint Clotilde, from the elegant and central 7th Arrondissement, is similar to the violinist's usual one from the last two years. The Music On Tours, that he had started with the pianist Horia Mihail and the cellist Răzvan Suma, were like a social campaign, the target audience being blind people and those with poor hearing. In Paris, Alexandru Tomescu answered to the invitation of a newly formed association, Next Steps, which deals with financing the rehabilitation treatment of young quadriplegic.
Therefore, it is a concert around Christmas meant to gather funds. The Romanian violinist's presence on the stage was preceded by the Orchestre de l'Alliance and the Iranian conductor, Pejman Memarzadeh that interpreted the overture to Egmont by Beethoven and the Symphony in C major by Georges Bizet. An almost correct interpretation, without very refined intentions, somehow justified by the orchestra members' youth and by the fact that Memarzadeh's conducting career has just started.
The quality of the performance was considerably raised by Alexandu Tomescu, who interpreted the Max Bruch Concerto, one of the best pieces of his repertoire. Confident and with a performance full of emotion and persuasion, Tomescu led the orchestra and the French public, who knew the violinist as the winner of the Jacques Thibaud competition. This is the first concert that I have attended in this Parisian period and where I witnessed standing applauses, asking for song repetitions and shouts of bravo. All of those were well deserved by Alexandu Tomescu, who if he had a more agile manger could have more performances on the European and international stages. On the eve of December 14th, 2010, he is going to perform in Paris again, on the well-known Gaveau Stage, during a private circuit concert.
Monica Isăcescu
(with the support of the Romanian Cultural Institute from Paris)
Translated by Oana Marina Siliște and Andreea Velicu
MA Students, MTTLC, Bucharest University