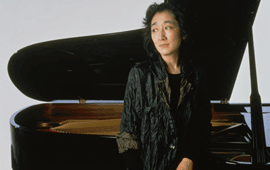 The Sound of Mitsuko Uchida
Wednesday, 15 December 2010 , ora 9.52

The Théâtre des Champs-Élysées had reserved the December 10
th
, 2010 night to a Saito Kinen Orchestra concert that was to be conducted by Master Seiji Ozawa and Mitsuko Uchida as a pianist for the Piano Concert No. 3 by Beethoven. Unfortunately, given his bad health, the conductor had to cancel his Parisian performance, but promised his French audience two concerts next year, in the spring. In Ozawa's absence, pianist
Mitsuko Uchida
agreed to give a solo recital, where she performed pieces from her latest record
:
Dances
of the League of
David by Robert Schumann, as well as pieces by
Ludwig van Beethoven - Moonlight Sonata, No. 2, Op. 27 and Frédéric Chopin - Prelude, Op.45 and Sonata No.3, Op.58.
No matter what score had chosen, but, of course, not outside her style, Mitsuko's Uchida persuasive sound won me over: warm, round, perfectly adequate to her musical intention, meaningful, leading to a climax or, the opposite, to a finale. Mitsuko Uchida often plays with her audience's expectations and her choice is often surprising. The British artist of Japanese origin controls the keyboard with a clear-cut intelligence and a kind of selfcontrol that helps her overcome the most difficult of moments ( such as the time when right from the first notes of the Moonlight Sonata a cell phone belonging to a lady in the audience started ringing in the first rows, which was completed by an extremely irritating cough spasm for the entire first part of the piece, and not just to the audience, but to the pianist as well, I'm sure of it). Despite some failed technical moments, Mitsuko Uchida managed not to lose her ideas and shaped everything very clearly, showing off the skills for which her CD with the last Beethoven sonatas won the BBC Music Magazine Disc of the Year award.
Much more confident with her romantic Schumann and Chopin scores, Mitsuko Uchida met the technical and emotional requirements, without abandoning a classical detachment and that impeccable quality sound. Her pianism doesn't 'scream', 'beg', doesn't 'struggle', but is balanced and deeply wise. So much that it wins you over, takes you along with it, eases you and shows you the unknowns face of things. And invites you to listen to her again on the first occasion.
Monica Isãcescu
(with the support of the Cultural Romanian Institute in Paris)
Translated by Gabriela Lungu and Elena Daniela Radu
MA Students, MTTLC, Bucharest University