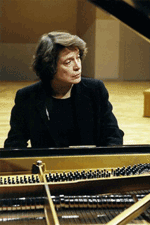 Leonskaja is on fire!
Wednesday, 15 December 2010 , ora 9.58

Elisabeth Leonskaja performed three encores Tuesday, December 14th, 2010, at the end of the Chopin recital she interpreted at The Romanian Athenaeum, that closed the Celebrating Chopin series, through which The Art Production Foundation marked the anniversary of 200 years from the Polish composer's birth.
This evening's ending showed an important fact: Elisabeth Leonskaja loves and is loved in return by the Romanian audience. The Russian performer's admirers had listened to her performing a ardent Polish Opus 26, an agitated Nocturne Opus 27 and just before the break -The Second Sonata Opus 35, with an relentless funerary march and a ghostly third part - in which we can almost hear 'the wind howling through the graves'. The second part of the recital consisted of The Third Ballad, Nocturne Opus 48 and Poloinaise Fantasie Opus 61 - all performed wisely, warmly and with the attraction that is specific to all artists - that totally hypnotise us.
It is possible that Elisabeth Leonskaja cannot compete with the new piano players in virtuosity, but the aspect doesn't really matter as long as the musical text hadn't suffered and the artist was successful again in presenting us with another 'Chopin'. It was not a sugary Chopin, but one with so many colours, in which even the harshness was extraordinarily expressive - like Callas. The Athenaeum's hall was completely full - although it is not always a good thing - it seems that there are still enough people for whom the Leonskaja recital is a fashionable event, that permits late arrivals and the continuous wandering inside the concerto hall during the concerto. The idea that each concerto hall should be equipped at the entrance with a manners guide does not belong to me and it is no news at all, so all I can do is to state it again hoping that this institution's managers will take action…
Irina Cristina Vasilescu
Translated by Monica Cristina Țone and Andreea Velicu
MA Students, MTTLC, Bucharest University