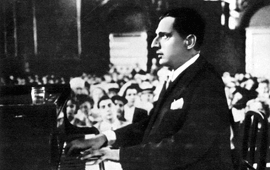 Dinu Lipatti - the composer, in the foreground at the Romanian Athenaeum
Wednesday, 15 December 2010 , ora 10.13

Within the Dinu Lipatti Festival, organised by the National University of Music in Bucharest, on the 12th of December 2010, we had the opportunity to meet a less known side to the personality of the legendary musician - that of composer. It took place under the dome of the Romanian Athenaeum, through a musical programme exclusively made of compositions belonging to Dinu Lipatti.
The first word that could describe the scores created by the musician would probably be "lyricism" - that introvert attitude from which feelings as emotion or ecstasy arise, which we noticed in the Four Songs for Voice and Piano interpreted by the tenor Răzvan Săraru and the pianist Viorela Ciucur, and in the Sonatina op. 1, presented by violinist Raluca Voicu and pianist Corina Răducanu.
The plays for the solo instruments - Sonatina op. 10 for the Left Hand offered by pianist Alin Ionescu, Introduction and Allegro for flute, rendered by Ana Chifu, The Prelude from Small Suite for Piano and Nocturne on a Moldavian Theme - both of them performed by Viniciu Moroianu - have showed how different plans can be highlighted by an apparent economy of the means of sonorous language. At the same time, the cordial timbre of Eugen Bogdan Popa's cello interlaced with those of the violin and piano, in two different musical compositions, called Première Improvisation and Fantasy for violin, cello and piano - enacted with violinists Mioara Moroianu, Raluca Stratulat, pianists Oana Velcovici and Viniciu Moroianu.
Aubade and Concertant Symphony for two Pianos and String Orchestra - with Vlad Dimulescu and Viniciu Moroianu as soloists - impressed by the variety of the instrumental colours, the dosage of the nuances and the synchronization between the musicians who performed the two compositions - flutist Cătălin Oprițoiu, oboist Valentin Ghiță, clarinetist Emil Vișenescu and bassoonist Gabriel Sava, respectively the members of the Universitaria Orchestra, of the National University of Music, ensemble conducted by the bandmaster Alexandru Ganea.
It seems that every hierarchy disappears when the music is interpreted in the superlative.
Alexandra Cebuc
Translated by Gabriela Moateru and Andreea Velicu
MA Students, MTTLC, University of Bucharest