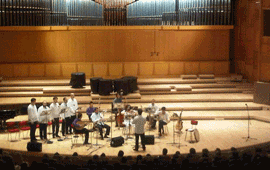 The Concert of the Vocal-Instrumental Old Music Orchestra Anton Pann at the Romanian Radio Society
Wednesday, 15 December 2010 , ora 10.17

The atmosphere of the winter holidays took over the public present at the Romanian Radio Society at the concert of Vocal-Instrumental Old Music Orchestra Anton Pann, on the 12th of December 2010. The event, organized by Radio Romania Music within the Christmas project of the European Broadcasting Union will be broadcasted live by seventeen European radio systems, on the 19th of December 2010, alongside other thirteen concerts offered by the other countries participating in the project.
The band invited to give a concert on this occasion was established in 2004, at Constantin Răileanu's initiative and of some other students at the National University of Music and the Faculty of Orthodox Theology Bucharest, because they wished to discover, express and share the beauty of ancient song. The numerous public present at the concert in the Romanian Radio Society gave a warm reception to the carols and Christmas songs from the collections composed by George Breazul and Anton Pann, in the orchestral arrangement realized by Constantin Răileanu.
Held under the title of High above the Sky, the concert began with two popular carols from the North of Romania, At Ștefan Vodă's Gate, We've Come since the Day Before Yesterday. Afterwards, the members of the Anton Pann Old Music Band interpreted some carols from the collection realized by George Breazul for the phonographic archive of the Ministry of Cults and Arts: Tonight Is a Big Night, In the Christmas Eve, Let Us Praise the Lord, Tonight Will Be Christmas and The Holly Virgin Is Walking About. From the Anton Pann collection, the spiritual patron of the band, the carol The Star Is Appearing in the East was chosen. At the end, there were three Christmas songs from George Breazul's collection, Oh, Carol Carol!, The Truth Sent from the Monastery and High above the Sky, the last one being sung by young soloist Iulia Popovici.
In a vocal-instrumental arrangement combining authenticity with originality and an interpretation full of expressiveness and profundity, the Anton Pann Band convinced us of the fact that the tradition of Romanian old music deserves to be explored and valorized.
On Radio Romania Music you can hear or rehear the concert performed by the Vocal-Instrumental Old Music Orchestra "Anton Pann" on Sunday, 26th of December, from 16:00.
Andreea Chiselev
Translated by Gabriela Moateru and Andreea Velicu
MA Students, MTTLC, University of Bucharest