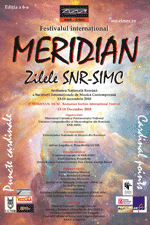 Meridian Festival at its Sixth Edition
Wednesday, 15 December 2010 , ora 10.21

On December 13th, 2010, the sixth edition of the Meridian International Festival organised under the aegis of the International Society for Contemporary Music has begun. On this occasion, at the Cantacuzino Palace Music Hall, on December 8th, 2010, a press conference was organised having as hosts composers Carmen Maria Cârneci and Sorin Lerescu, Festival Director. Personalities of the Romanian music life, among whom the contemporary music authors Mihaela Vosganian, Irinel Anghel, George Balint and musicologist Despina Petecel-Theodoru took part at this event.
Even from the beginning of the conference, composer Carmen Maria Cârneci pointed out that this edition of the Meridian Festival differs from the previous ones through the attention paid first of all to the chamber ensembles which will perform on stage - from Ars Nova from Cluj-Napoca and Archaeus Ensemble led by the composer Liviu Dănceanu, both made of 'veteran performers' of the Romanian contemporary music, to Opus Art Ensemble, coordinated by Cătălin Crețu. Therewith, we found that composer Costin Miereanu and saxophonist Daniel Kientzy are among those present at this edition.
On the poster of the festival - where audience will have free access - there are pieces signed by Ștefan Niculescu, Doina Rotaru, Corneliu Dan Georgescu and Lucian Mețianu, as well as scores created by young generation composers - Diana Rotaru, Sabina Ulubeanu, Cătălin Crețu and Mihai Măniceanu. The conference had a very original end - composer Irinel Anghel presented a mascot suggested to the audience of the concert scheduled at Cantacuzino Palace Music Hall for the evening of December 13th.
Alexandra Cebuc
Translated by Mirela Oprina and Andreea Velicu
MA Students, MTTLC, Bucharest University